The dead body of a man has been recovered from a cave by rescuers nine days after he went missing.
 No hope in Lao Cai cave rescue efforts after six days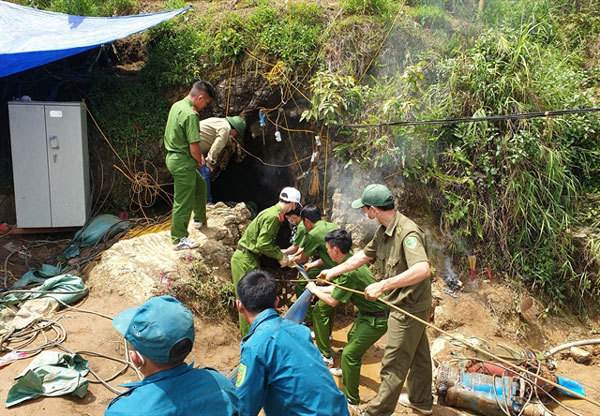 Police and rescue men use different equipment to search for Giang Seo Lu, who trapped in the cave. — VNA/VNS Photo Quoc Khanh
Flash floods swept 56-year-old Giang Seo Lu into the cave in the northern mountainous province of Lao Cai.
It is unclear how long he survived before his body was found.
Colonel Tran Cong Ung, deputy head of the Lao Cai Military Headquarters, said after receiving information about the man's disappearance, more than 130 soldiers were dispatched to the scene to search for him.
But the rescue efforts were hampered by heavy rain and narrow entry points to the cave which is 40 metres deep.
Rescuers used drilling machines to widen the cave, dredge sand, pump out water to reach the missing man.
Lu lives in Sang Man Than Village, Man Than Commune in Si Ma Cai District.
On May 31, he was trying to stop a pumping machine taking water from his field when he was swept in.
Local residents said the cave has a water resource and has been used by people living in the area to take water for daily use and agricultural production. Lu was the first man to discover the water resource in the cave.
VNS