A 62-year-old man in the Mekong Delta Province of Ben Tre whose rare disorder made his heart beat abnormally fast – at times 300 beats per minute – was successfully treated, doctors from the HCM City-based Cho Ray Hospital said.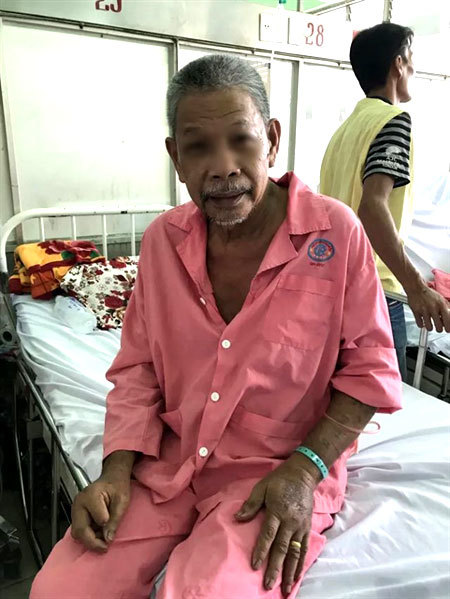 P.V.D., a resident of the Mekong Delta Province of Ben Tre, suffered from the rare heart condition, Wolff-Parkinson-White, which results in frequent episodes of abnormally rapid heart beats and dizziness, and an elevated risks of strokes. — Photo courtesy of Cho Ray Hospital
The patient, P.V.D., suffered from Wolff-Parkinson-White (WPW) syndrome for months but had no knowledge that this condition was behind his frequent episodes of palpitations, dizziness and extreme anxiety.
If left untreated, the condition easily leads to strokes, doctors said.
He was admitted to the Nguyen Dinh Chieu Hospital in Ben Tre during the night when he felt like his heart was beating too fast and might be about to burst from his chest.
Doctors correctly diagnosed the condition and administered electric shocks but they could only stabilise his heart for the moment – the patient was quickly transferred to Cho Ray Hospital in HCM City, together with his erratic electrocardiogram that indicated a record heartbeat at 300 beats per minute, for or five times the rate of a healthy person in a resting state.
A procedure was immediately performed on the patient, which utilises a catheter to focus electrical impulses to target and destroy the extra tissue pathway to the heart that is the root cause of the condition.
After a two-hour procedure and one day of rest, D. recovered and was discharged from the hospital.
Nguyen Tri Thuc, deputy director of Cho Ray Hospital, said that in recent decades, the cardiac ablation technique has seen many advancements that would prove beneficial for not only those afflicted with WPW syndrome but also other heartbeat abnormalities.
Cardiac ablation currently has a success rate of 50-90 per cent, Dr Thuc said, with the rate of patients needing to undergo another ablation falling around 6 per cent.
VNS