The closure immediately followed the 9-day Tết (Lunar New Year) holiday, leaving thousands of parents scrambling for daycare solutions.
Last Sunday, Hà Nội's Department of Education and Training announced a week-long closure of all schools, an unprecedented move in response to the outbreak of the novel coronavirus epidemic.
Schools across the nation soon followed suit and the break could be extended for another week, it already has been in HCM City.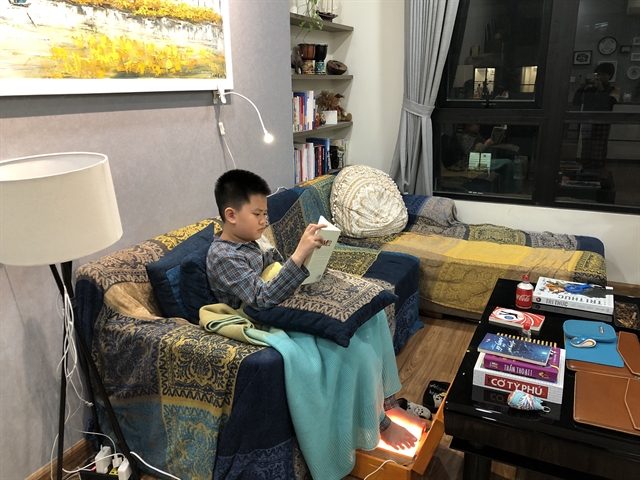 More reading: Bảo Lâm, a third-grader in Hà Nội, has beenreadinghis favourite books at home during his week off. 
The closure immediately followed the 9-day Tết(Lunar New Year) holiday, leaving thousands of parents scrambling for daycare solutions..
Those parents who have suffered the most have children at kindergarten age. Many of them have to take annual leave to stay at home and take care of their kids.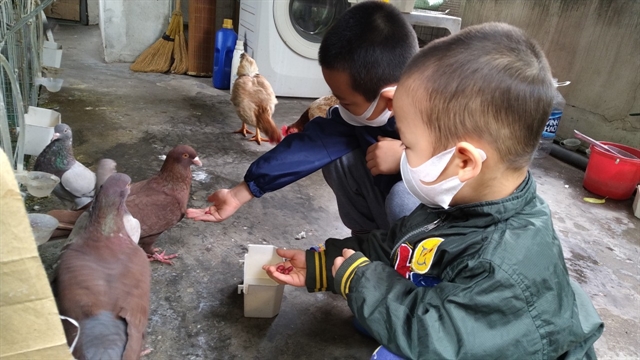 Playing with your pets: Minh Đức, 7, and Minh Khang, 3, feed their pigeons. 
For school-age children, it's been a bit less hard. Millions of kids have been enjoying their time off, avoiding 6am starts and browsing the internet without their parents around to supervise them. Many have been doing things they normally don't have time for like sleep longer, cook their own lunches, practice guitar or piano, play chess online with their friends, or polish their basketball skills.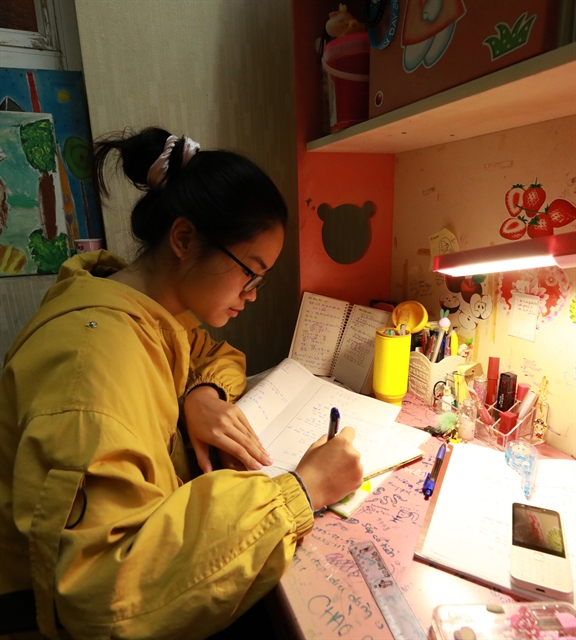 Homework: Phương Mai, a 9th grader in Hà Nội, studies at home. Her teachers send homework on the class group chat, which theyemailback for corrections. 
Unlike those mentioned above, Nguyễn Nhật Anh of the 10th grade at Hà Nội's Việt Đức Highschool tells Việt Nam News: "I don't want to stay home any longer, I want to go back to school."
Nhật Anh said everyone at his school says they're fed up with staying home. 
"At home, I feel idle. I played my guitar up to 10 hours over the past week," he said. 
Primary, junior high and high school, as well as college students, do not go to school every day, but teachers and parents make sure they have something to do every day. Online classes are in full swing, teachers will be sending homework to the parents so they can work during the day and parents have something to check when they go home at night. 
"This works well with my children," says a working parent whose two children have been staying at home since the announcement. 
"I suggest each semester, students have a week working on their own pace like this, to sleep a little more and do some of the simple household tasks." 
But it's not working out for everyone.
"I don't want a week off," exclaimed secondary teacher Nguyễn Hạnh of Hà Nội's Giảng Võ School. "I don't want to stay idle at home all week, and I don't want to delay the school year-end further into my summer holiday!"
Like it or not, it is almost certain that next week will be another week without school. VNS
If you have captured photos of your children keeping themselves busy during the unexpected break, email them to us at life@vnsmail.com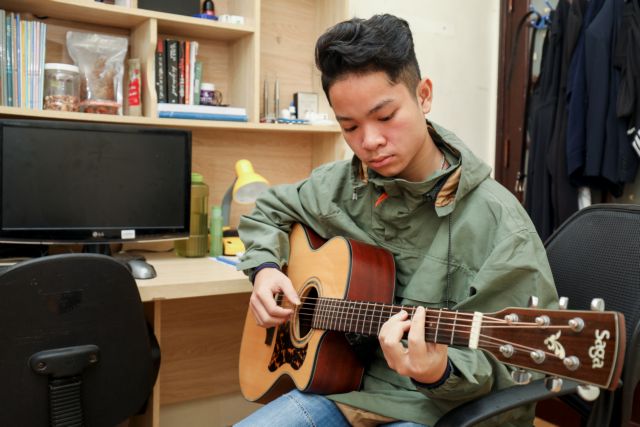 Music passion: Nguyễn Nhật Anh, 16, a student atViệt Đức High School in Hà Nội, says as much as he has likedspendingfree time this week practising theguitar, he is lookingforward to going back to school.
My Ha (VNS)