In the midst of public anger over violations at a protection forest in the rural Soc Son District of Hanoi, some 200 households in Minh Tan Village are at risk of being unfairly punished as authorities scramble to fix the wrongdoings.
Discover Hanoi's legendary mount of Ba Vi
Hanoi sets tough land use certificate deadline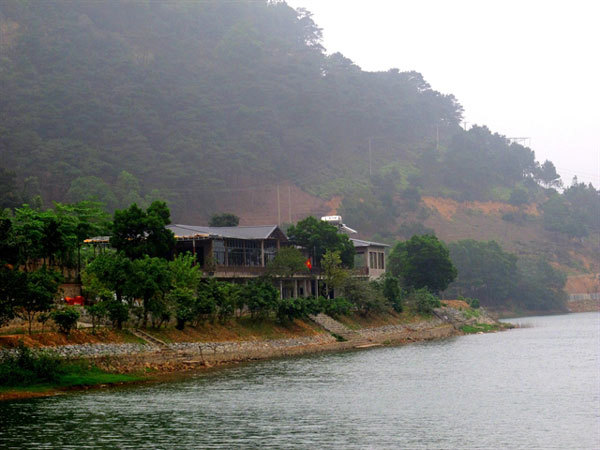 A corner of the Minh Tan Village next to Dong Do Lake, Minh Tri Commune, Soc Son District in Hanoi. — VNA/VNS Photos Manh Khanh
Locals argued that the recent conclusion formed by authorities, based on a 2008 map, completely disregarded over 30 years of settlement and efforts to reforest the barren hills, and grouped them in the same category as those who have encroached on the area in a controversial case that involves officials and celebrities who built villas on supposedly protection forestland.
From 1983-1985, Soc Son District relocated 130 households from five communes in the delta area to the mountainous Dong Do 'new economic zone' in order to cultivate the wild, neglected forests and establish the village now known as Minh Tan.
Nguyen Manh Hung, deputy head of the village and one of the first settlers, reminisced about those early days in the hostile and desolate land.
"The government provided us with six months' worth of rice, 100kg of cement and 600 tiles, plus some allowances, but that only helped a little since the land was a series of barren hills while roads were non-existent," Hung said.
"But we persisted, through illness and hunger, to cultivate and make this land a liveable place," Hung said.
It was not until 2000, when a delegate from Hanoi's People's Council visited the village and saw the poor living conditions, that a decision was made to urgently connect the village to the national power grid.
Hùng credited the local government for upgrading roads and building the village's cultural centre, medical station and a kindergarten, lifting the quality of life in the village.
"In the early years, most Dong Do households resorted to collecting wood to earn a meagre additional income. Now they can make a decent living from forestry production, fruit and livestock farms."
After 34 years, the village now boasts a population of 700 living scattered across a 5sq.km area beside Dong Do Lake and separated from other villages in the Minh Tri District by winding paths and large swathes of forests, which have earned the village the nickname 'a mini Da Lat'.
Prior to 1988, Soc Son District had only 234ha of forest while the majority of its land were unproductive hills and mountains, but now, thanks to the settlement of long-term residents who have made tireless efforts to expand the forests, nearly all the formerly "bad soil" hills are now covered in trees.
Indignation
Minh Tan was "coloured green" (indicating forest) on a map from 2006, when Soc Son sent officials to the village to demarcate the boundaries of residential and forest areas belonging to each household, but due to a policy change, the cap for residential and garden areas for each settler household was reduced to 400sq.m and 2,000sq.m, as opposed to 1993's policy which granted them 400sq.m and 5,000sq.m - a cut residents vehemently opposed.
After the Hanoi Inspectorate's conclusion was released in early April, which proposed that all 'violating' buildings in the Minh Tri and Minh Phu communes built in 2017-18 period would be torn down.
Minh Tan responded with indignation, saying their "sweat and toil" to cultivate the land in the last 34 years had been "invalidated", and that there is an ill will to "erase" the village and expel its residents.
In a letter of complaint, the village said the conclusion did not reflect the actual situation as it was based on a 2008 map and discounted all the history of the land prior to that time.
One month later, local uncertainty remains just as frustrating.
Nguyen Dinh Cuong, head of Minh Tan Village, said resolutely they were not some "squatters" living on designated protection forests.
"The people were here first, and the protection forest's designation came later," Cuong said.
"We live here, we've paid our land tax without fail every year. Minh Tan Village was established following the Government's call to expand 'new economic zones'. Our painstaking efforts have not been recognised, and now we are being accused of encroaching on the forest," Cuong said.
"When the local administration made the zone and turned this entire area into a protection forest, we were not notified," he claimed.
Nguyen Van Diem from the village said he arrived there in 1988 as a child.
His family recently decided to build a single-storey house of 100 sq.m right on their current land for their newly married son, but he Minh Tri Commune authorities had repeatedly ordered him to halt all construction activities.
Diem said the construction was totally legal as it was built on the land he and his family had lived on for 31 years since his family was relocated.
"The current government says I am encroaching on forestland but this land was made habitable by us," Diem said, adding he would definitely go through with the construction.
Nguyen Minh Hai from Minh Tan told Vietnam News Agency that "we are being forgotten through no fault of our own".
"The people want the administrative map to be redrawn and to be issued legal rights to fully make use of the land here," he added.
According to the 2008 map of Hanoi, the area is deemed forestland but Minh Tri Commune and Soc Son District both consider the area residential land, as demonstrated by tax collection fees and clearance compensation for various road and power projects that run through the village.
However, since the area was designated as forestland, the residents have not been granted 'red books,' or land use rights certificates, and as a consequence, they didn't have the collateral to take out loans from banks to invest in economic development, dampening their dreams of making riches from the forest they grew.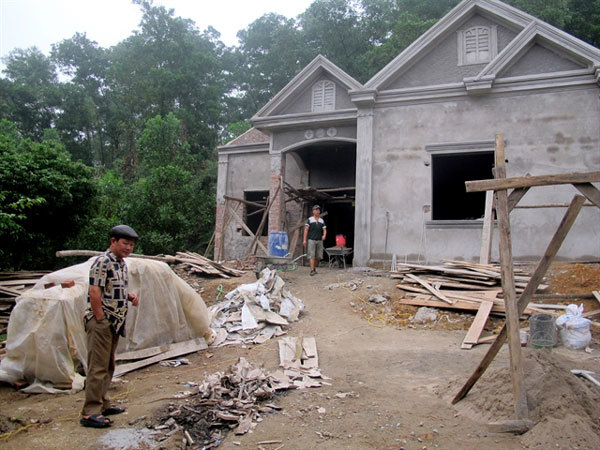 Nguyen Van Diem stands in front of a house he is building for his son, the construction of which has been repeatedly thwarted by the local government who deem the land in Minh Tan Village a protection forest under Soc Son District's jurisdiction.


Appropriate policies
Duong Van Nhuan, chairman of Minh Tri Commune's People's Committee, said authorities had held talks with local people to allay their concerns and "maintain order in the area".
On the other hand, they have lodged a request to higher authorities for a further review of the case.
"We are petitioning authorities to arrive at an appropriate solution for the people here, given the unique characteristics of the Minh Tan. Their wish to be issued red books is completely reasonable," Nhuan said.
"Issues of concern for the local people, if left unresolved, would spell complications to the security and order in the area," he said.
Last week, Nguyen Duc Chung, chairman of Hanoi's People's Committee, ordered the municipal inspectorate and Soc Son District's authorities to hold talks with local people and respond to their concerns, and report the outcomes to him.
Minh Tan Village's head Cuong said he remained hopeful the upcoming dialogue would put an end to the whole affair and return calm to the lakeside village.
VNS