Tighter regulations are being planned on school buses, after one child died and another needed hospital treatment when they were left on board for hours unnoticed over the past two months.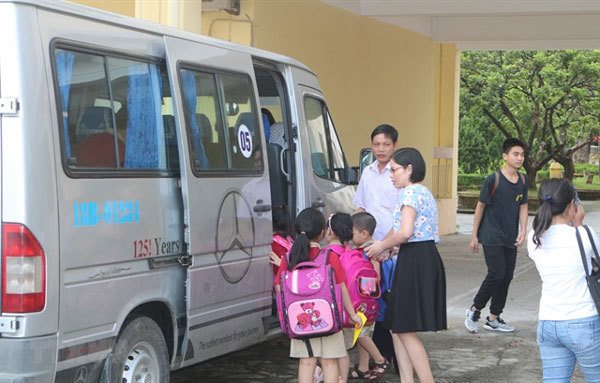 A school bus picks up students at Nguyen Tat Thanh Primary School in northern Nam Dinh Province. Ministries are working together to improve regulations for all school bus services. — VNA/VNS Photo
The Ministry of Education and Training (MoET) has asked the Ministry of Transport to formulate regulations on school bus services in an effort to ensure student safety.
The MoET said the school bus service had been developed recently, but there were no specific laws to regulate the service.
Many countries have strict rules on technical standards for school buses as well as a system of legal corridors to implement regulations to ensure the safety of pupils.
The transport ministry will now look into legal provisions and guidelines.
In August, the MoET required departments to inspect schools using private bus services.
It recommended schools must choose licensed companies and drivers must have strong ethics and follow road safety.
Schools were also told to end contracts with companies whose drivers did not observe traffic laws.
In the past two months, there have been two cases of children being left on school buses.
On August 6, a six-year-old boy at Hanoi's Gateway School was found dead after being left abandoned on a bus for hours.
The school bus monitor, Nguyen Bich Quy, and the bus driver, Doan Quy Phien, are being prosecuted for unintentional murder and manslaughter. Quy has been released on bail while Phien has been placed under house arrest.
The second incident happened on September 13 when a three-year-old boy was found inside a school bus of Đồ Rê Mí Private Kindergarten in northern Bac Ninh Province.
He was treated for heat stroke, fever and dehydration after being left alone on the bus for seven hours.
VNS