Purchasing and transporting of agricultural products from Hai Duong province – Vietnam's largest Covid-19 hotspot – to other localities has been stalled for a few days due to epidemic prevention regulations applied in many neighboring provinces.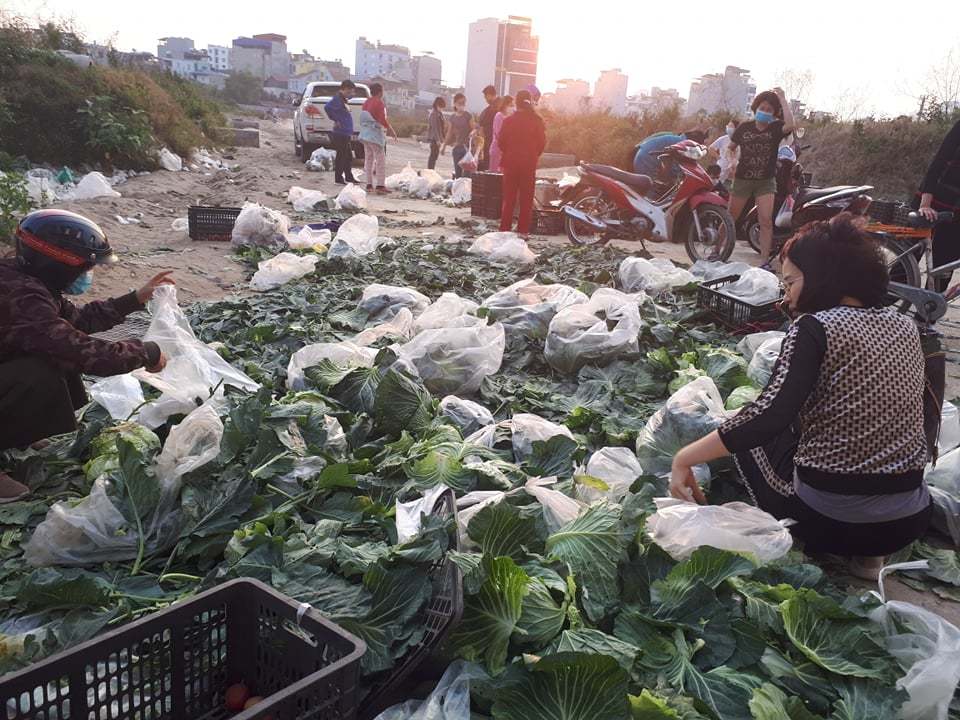 Hanoians support sales of agro-products from Covid-19 hotspots. 
On February 21 the Ministry of Industry and Trade reported to the Prime Minister on measures to clear away difficulties for commodity circulation and promote agricultural product sales and purchases in Hai Duong province.
The Ministry had discussions about the purchase and delivery of products with major distribution systems in the North, including the Central Group, which runs supermarket chains BigC and Go!, Vincommerce, the owner of Vinmart and Vinmart + chains, BRG Retail, which operates the BRG Mart supermarket chain, and the MM Mega Market chain.
Central Group purchased about 100 tons of vegetables, tubers and fruits from Hai Duong province last week and the volume is expected to increase to 200 tons per week.
MM Mega Market Vietnam has committed to support purchase of agricultural products for Hai Duong province. This firm has ordered 24.3 tons of vegetables per day and will increase output in the coming days. The Vinmart system has also ordered a number of safe agricultural products.
The Ministry of Industry and Trade has also worked with relevant agencies of the Ministry of Agriculture and Rural Development, provinces and enterprises to discuss solutions to deal with consumers' hesitancy in using agricultural products and foodstuffs originating from epidemic-hit areas.
However, the biggest problems come from the regulations set by local governments in epidemic prevention. Most of the Covid-19 control stations at the gateways to and from neighboring provinces and cities restrict or ban vehicles entering and leaving Hai Duong.
It is also reported that the request for Covid-19 testing in the Ministry of Health's dispatch dated February 7 on the transport of goods, which is said to have many inappropriate points, has resulted in difficulty for sales of agricultural products at home and abroad.
This directly affects Hai Duong province and other localities because Hai Duong is at the center of the development triangle of Hanoi - Hai Phong - Quang Ninh.
The Ministry of Industry and Trade has asked the Prime Minister to direct the Ministry of Health to provide unified guidance on the circulation of people, goods and vehicles between epidemic-hit areas and other localities.
The Ministry also asked Prime Minister to direct the Ministry of Agriculture and Rural Development to work with the Ministry of Health to issue unified guidance on agricultural, forestry and fishery production processes to ensure disease prevention and sufficient conditions for distribution to domestic and export markets.
Luong Bang

The trade ministry has urged provincial authorities across the country to boost the circulation of essential goods and the consumption of agricultural products in the context of the impact of Covid-19.

People in the northern province of Hai Duong are calling for help as their farm produce distribution networks have been disrupted since social distancing was imposed in the locality.