On Monday, Nguyen Thi Lien left hospital and went home with her newborn baby.
Heroic mum delays cancer treatment to save unborn baby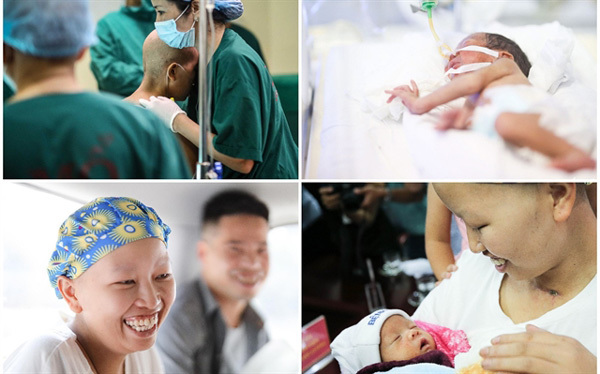 From top left, clockwise: Lien on the operation bed; baby Binh An in the incubator; Lien with her baby; Lien and her husband on the day they could go home altogether. Photo Nguyen Khanh/ Tuổi Trẻ
In itself, that's nothing remarkable, if it weren't for the fact that it was a miracle Lien and her baby Binh An were alive.
Fifty-five days earlier on May 22, she gave birth via a C-section, which again is unremarkable, if it weren't for the fact she was battling breast cancer.
In those 55 days, Lien went through six rounds of chemotherapy all while recovering from the operation, and somehow she's still standing.
The premature baby, who weighed only 1.5kg at birth, stayed in the neonatal intensive care unit at the National Hospital of Obstetrics and Gynecology all 55 days, but has gained almost a kilogram and "is doing fine" according to doctors.
Lien's battle actually began long before that.
When she was 22 weeks pregnant, Lien was diagnosed with cancer and advised by doctors to terminate her pregnancy for her own safety.
Heartbroken yet strong, Lien insisted on keeping the baby and waiting to give birth before starting chemo, a gamble so risky it made headlines up and down the country.
In 31 weeks of carrying the baby, going through hormonal changes and body adjustments, Lien also suffered pain from her cancer – but she never gave up.
"I thought of all the things that could happen and only wished for my baby to be born healthy," Lien said.
"I've prepared for death. But I thought I had to try to hear my baby cry. When he cried, it was the biggest happiness for me because I knew he came to life safe and sound," she recalled.
Doctor Tran Danh Cuong, director of the National Hospital of Obstetrics and Gynecology, who performed the C-section, said the whole operation team was deeply moved.
"When I saw her sitting on the operation table, she looked so fragile as if her life could be taken at any moment, yet she was so strong to hold on to life and welcome her baby to the world. It was so sacred," he said.
Mother and son's battle
After the birth, Lien was put on a ventilator and taken to the ICU at the K (Cancer) Hospital, while the baby was transferred to the National Hospital of Obstetrics and Gynecology.
Two days later, she fell unconscious.
Doctor Tran Danh Cuong, director of the National Hospital of Obstetrics and Gynecology, said it was a miracle that Lien woke up again in four days and was able to see her son in videos sent from his hospital.
On June 6, Lien had her first round of chemo at K Hospital.
"There were times when I wanted to give up. Pain tortured me at night, my legs hurt like hell and all I could do was to crawl around the bed until it was dawn," she said.
"But then I thought I had to try until I couldn't try anymore."
Lien's handwriting after she gave birth to Binh An and when she was still on the ventilator, which says: "I only wish to see Bình An soon"

On June 13, she was able to sit on a wheelchair to visit her son.
The reunion was only 10 minutes long – since baby An needed to return to the incubator, but it gave strength to both mother and baby.
Lien underwent five more chemo sessions before doctors said she could go home for a break.
Doctor Le Thanh Duc, head of the Endocrinology 5 Faculty of the K Hospital, couldn't help but show his amazement.
"Lien was so strong and lucky as well. I was not expecting her condition to get better like this," he said.
Baby Binh An had difficult days after the birth too.
He was put on a breathing machine due to a premature rupture of the membranes and suffered immune system issues because his mother had to take lots of different type of medicine.
Three days after his birth, An caught a serious infection and was at risk of necrotizing enterocolitis. Doctors had to combine many methods to treat him.
Each hour, he could only have a millilitre of milk.
Doctor Le Minh Trac, director of the Neonatal Care Centre of the National Hospital of Obstetrics and Gynecology, said Binh An was at high risk of infection, brain and lung hemorrhage.
Thanks to the work of doctors at the centre, An was weaned off the ventilator only seven days after his birth and shifted to a breathing support machine. When he was 25 days old, he could breathe by himself.
An is now medicine-free except for some vitamins and micronutrients.
"And he can smile now," the doctor said.
Remarkable feat
Doctor Danh Cuong from the National Hospital of Obstetrics and Gynecology said the result was beyond his hopes.
"When the mother and baby met in June, we thought it was good enough that Lien could see her son once. It was such an amazing journey that they had gone through to now be able to go home altogether," he said.
"It's beyond my imagination – the endless strength of the mother, the proud fight of the baby and the wholehearted care of the health staff," he said.
Lien has to go back to the K Hospital this Thursday for more chemo, but she's optimistic about the future.
"No one can be sure about what's happening next, but as long as I am alive I will try to stay happy to raise our kids with my husband," she said.
Doctor Cuong said the case inspired him.
"If Lien's treatment goes well and she wins the cancer battle, this would be considered a remarkable feat. And if all goes well, there should be a new chapter in the textbook about cancer during pregnancy," he said.
VNS