The Ministry of Education and Training said it was considering re-opening schools from early next month after shutting them down to prevent the spread of the novel coronavirus (COVID-19).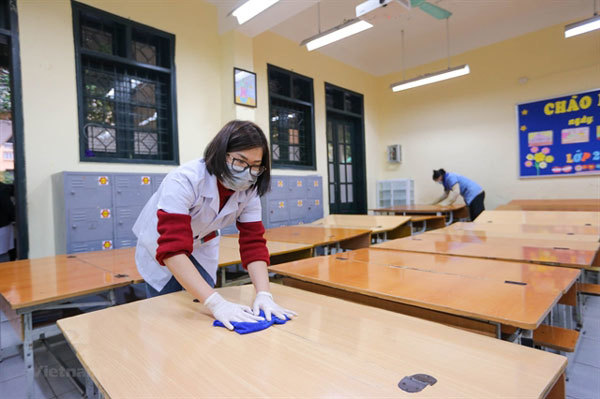 Teachers clean and disinfect a classroom at a primary school in Hanoi to prevent the spread of coronavirus. VNA/VNS Photo Minh Son
Speaking at a conference about the issue on Frday, Deputy Minister of Education and Training Nguyen Huu Do said as stipulated, only schools in localities where an outbreak had been reported would remain closed.

However, due to public concern, the ministry has instructed people's committees of cities and provinces to consider closing all schools until the end of this month if needed.
Do said a longer school break would cause difficulties for this academic year.
There are differing opinions about when schools should reopen in different localities. Most cities have agreed with the proposal to allow students to return to school from March, but authorities in HCM City have revealed a plan to extend the break until the end of next month.
The break will be applied to students at all public kindergartens, schools and universities in the city. The city has prolonged the school break three times since the outbreak of COVID-19.
The second semester of this academic year was scheduled from April to July.
Do said the ministry, together with relevant ministries and sectors, would work with local authorities in Hanoi and HCM City to make a final decision.
At the conference, Deputy Minister of Foreign Affairs To Anh Dung gave a briefing about how teaching and studying had been hit in affected countries.
In Taiwan (China), all schools delayed the start of the second semester until February 25, while Hong Kong had extended the Lunar New Year holiday until March 1.
In South Korea, all schools had been instructed to shorten the actual number of school days by 10 per cent and encourage online learning.
Meanwhile, Mongolia had closed all pre-schools and universities from January 27 to March 2. Some private schools in Vientiane (Laos) near the Chinese border had temporarily closed.
Dung said countries that were sending students to school as normal such as Malaysia, Japan, and Singapore had strengthened preventive measures in schools, such as requiring students and teachers to wear masks, testing temperatures, and requiring 14 days of medical leave and health checks for students who travelled to China during the school holidays.
The National Committee on preventing and combating the acute respiratory disease caused by COVID-19 said Vietnam had managed to keep the virus under control so far.
Since February 13, no new cases had been reported. Fifteen of 16 confirmed cases had recovered and been discharged from hospitals.
Currently, there are 28 suspected cases and more than 5,640 people who had close contact with them under quarantine.
As of Friday, the virus had killed 2,247 people and infected 76,727 globally. In China alone, 75,465 cases have been reported. Of them, 2,236 have died. VNS

Many software companies have provided free e-learning software for students to learn online while schools remain closed at least until month-end due to the new coronavirus fears.
The 2019-2020 school year will be extended to the end of June, a month later than previous years after delays children faced going back to class at the beginning of the year due to fears of the acute respiratory disease COVID-19.