Private tutoring was a hot topic of discussion at the National Assembly Q&A session on November 11.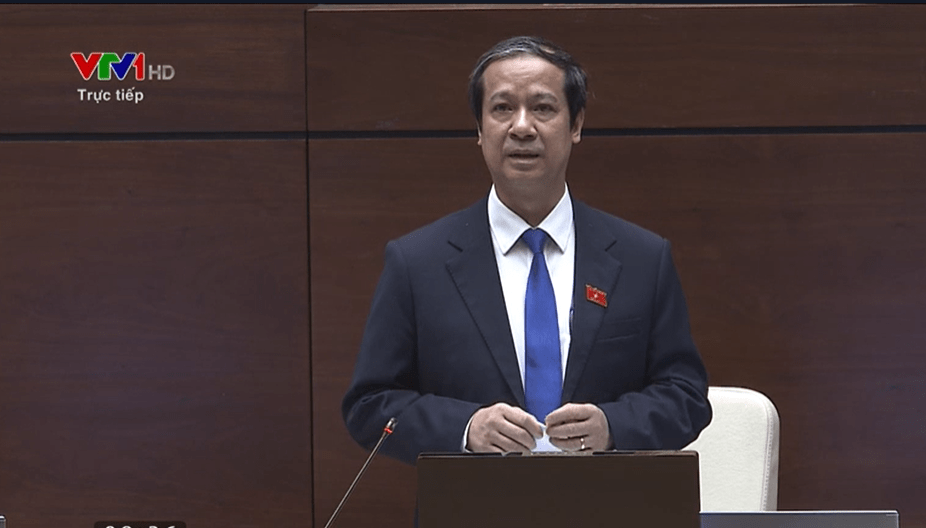 Minister of Education and Training Nguyen Kim Son
Nguyen Huy Thai, a National Assembly Deputy from Bac Lieu, said that despite the ban on extra classes, they still exist, and online extra classes have also appeared recently. Many students complain they are forced to attend online extra classes. Voters want the Ministry of Education and Training (MOET) to inspect extra online teaching classes.
MOET Minister Nguyen Kim Son affirmed that teachers are prohibited from running extra classes. When studying online, students are more stressed because they have to have higher concentration, so private tutoring must be prohibited now more than ever.
Circular 09 released by the ministry on March 30 on online teaching and learning stipulated the number of teaching hours for different education levels. He asked local education and training departments to inspect teaching at schools to find out if students have more than the allowed hours of learning.
Nguyen Cong Long, a National Assembly Deputy, said he agreed with the Minister that private tutoring should be prohibited for the sake of students. However, he said that prohibition with an administrative command alone won't solve the problem.
In many localities, people organize "ambushes" to catch teachers providing extra classes. Long said this behavior is unreasonable.
He believes that the effects of private tutoring must be assessed. In fact, attending extra classes is a real demand from many students.
"Extra learning has certain effects. Honestly speaking, our children are able to succeed in their lives partially thanks to extra learning," he said.
"Why are medical workers allowed to take extra jobs, but teachers are not?" he said.
Since teachers' income is low, they have to offer extra classes to earn extra money.
"It's necessary to look at the situation realistically to find radical solutions. We can see that teachers needed aid over the last two years due to the pandemic," he said.
Son said the biggest problem in private tutoring now is that teachers don't provide enough content during official lessons at school and only give the content in the extra classes. So, students have to go to extra classes run by their teachers to receive sufficient knowledge.
Nguyen Lam Thanh, a National Asembly Deputy, said there are several things that must be done.
First, streamline the curriculum. Surveys have found that the workload is too heavy for students.
Second, reform the teaching method, with a focus on teaching students critical thinking.
Third, reform the examination method. 
Phuong Mai

Many parents in Vietnam are choosing online extra classes for their children amid the ongoing Covid-19 pandemic.

The HCM City Department of Education and Training said it is closely monitoring private tutoring facilities since more and more of them are operating without a licence.