The Ministry of Health will create the most favorable conditions for firms, provinces and cities to import Covid-19 vaccines into Vietnam, Minister of Health Nguyen Thanh Long told a meeting on May 31.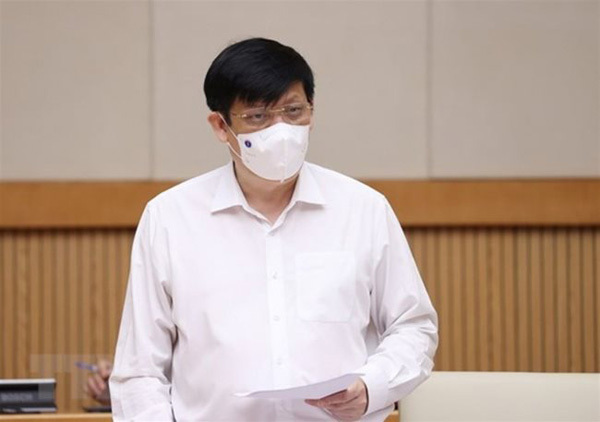 Minister of Health Nguyen Thanh Long. The Ministry of Health will create the most favorable conditions for firms, provinces and cities to import Covid-19 vaccines into Vietnam 
Following the conclusion of the Politburo and the Government's Resolution 21, the ministry has teamed up with other ministries and agencies to call on provinces and cities, firms and organizations to seek Covid-19 vaccine supplies.
The ministry will continue to offer policies to encourage more units to join in the search for vaccines, facilitating all firms and localities to import Covid-19 vaccines, including granting licenses, testing vaccines and helping with the vaccination process.
At the meeting, Deputy Prime Minister Vu Duc Dam asked the ministry to publicize its plan allowing the import of all Covid-19 vaccines licensed by the World Health Organization (WHO). Besides, the ministry should allow firms to import the vaccines that have yet to be authorized for use by WHO, but have received approval for use from other countries.
Minister Long said that the ministry would handle the paperwork of the import of the Covid-19 vaccines and grant an import license within five days if vaccine importers provide sufficient legal and valid documents.
Also, Long affirmed that the ministry has encouraged all firms to directly import Covid-19 vaccines into Vietnam if they obtained letters of authorization from vaccine manufacturers.
Apart from this, the ministry will make it easy for provinces and cities which register to buy Covid-19 vaccines.
However, the ministry also warned firms and organizations against Covid-19 vaccine scams as many individuals and units have introduced themselves as representatives authorized by Covid-19 vaccine producers to sell the vaccines.
In related news, to bring production back on track, the Ministry of Health asked Bac Giang and Bac Ninh provinces, where many Covid-19 cases were detected at industrial parks, to quickly vaccinate workers.
Bac Giang has received a total of 150,000 doses of AstraZeneca's Covid-19 vaccine and started to inoculate workers over the past few days. The province's vaccination for workers is set to finish prior to June 6.
Due to the spread of Covid-19, Bac Giang has suspended the operations of four industrial parks, with over 140,000 workers stopping their work. As of yesterday, 10 firms, with some 4,000 workers, resumed their operations.
Similarly, Bac Ninh Province is stepping up Covid-19 vaccination for workers. Some 2,400 workers at the Samsung Electronics Company in the Yen Phong Industrial Park are set to get vaccinated today, June 1.
SGT

In the next two months, Vietnam will have at least 5 million more doses of AstraZeneca and Pfizer vaccines, according to Deputy Health Minister Do Xuan Tuyen.

The Government has issued Resolution No. 09 dated May 18, 2021 on the purchase of Covid-19 vaccines.