More than 132,800 Vietnamese workers went working overseas during the 11 months of 2019, surpassing the year's target of 120,000, according to figures from the Vietnam Association of Manpower Supply (VAMAS).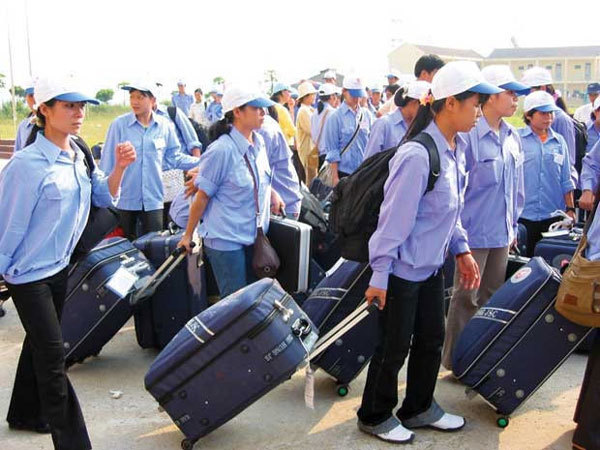 The number of Vietnamese workers sending abroad is on the rise this year. — Photo zing.vn
In November alone, nearly 14,800 Vietnamese went to work overseas, up nearly 2.6 per cent as compared to the same period last year.
Japan, South Korea and Taiwan accounted for 96.9 per cent of Vietnam's labour export market with 128,685 workers.
The number of workers to Japan has risen by 16.64 per cent compared to the same period last year.
Since the start of the year, South Korea has received 632 Vietnamese workers every month.
Meanwhile, the number of workers going to Southeast Asian countries, namely Malaysia, Singapore, the Philippines, Thailand and Cambodia, was only 584, down 46.72 per cent.
Labourers working in the Middle East accounted for only 1 per cent of the total.
Selecting workers to send overseas has been a focus of many businesses in recent years.
Vietnamese workers planning to work abroad need to improve their skills and foreign language proficiency to thrive, according to Nguyen Gia Liem, deputy head of the Department of Overseas Labour.
"Many labour export companies have organised courses on vocational training and foreign languages for employees who would work overseas," Liem told Thời Báo Kinh Tế Việt Nam (Vietnam Economic Review) newspaper.
The Government plans to revise the Law on Vietnamese Employees Working Overseas to promote labour exports, said Liem.
"The law will adjust regulations on vocational and foreign language training for workers to take advantage of the current vocational training network as well as improve the skills of the Vietnamese workers," Liem said.
A regulation on foreign language proficiency will be added to the law, he said.
It was necessary to offer policies supporting vocational and foreign language training activities to provide essential skills for those who wanted to work abroad, Liem said.
Labour export enterprises should send more employees to work in the high-tech sectors of developed countries to help create human resources for Vietnam when they return, Liem added. — VNS

With a host of high-income nations opening their doors to Vietnamese guest workers in recent times, this marks a golden opportunity for local labourers to secure a quality job and enjoy attractive incomes.

Taiwan (China) and Japan are expected to remain the top destinations for Vietnamese workers this year with 90 percent of all overseas employees working there.