The Yen Bai Province Department of Veterinary and Van Chan District authorities on Tuesday culled 200 pigs infected with African swine fever.
19 localities in Vietnam report African swine fever outbreaks
Management tightened to prevent African swine fever outbreak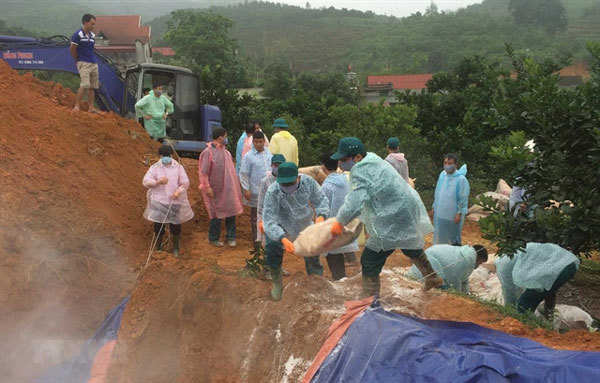 Infected pigs are buried in Yen Bai Province. – VNA/VNS Photo Ngoc Anh
The outbreak was reported on Monday after several pigs belonging to Vu Thanh Tung and Pham Ngoc Hung in Tran Phu Farm Town contracted fevers and died.
The central province of Quang Tri on Tuesday detected a second outbreak in Commune 5, District 3, Dong Ha City. 28 pigs were culled on Tuesday to stop its spread.
On Monday, an African swine fever outbreak was also reported in the key pig farming province of Dong Nai.
Trang Bom District, where the first infected pigs were found, set up two quarantine check-points, demanded a halt on slaughterhouses and sprayed disinfectant at farms and burial sites.
According to the Animal Health Department, in the first four months of this year, African swine fever has wreaked havoc in more than 20 localities across Vietnam, resulting in the culling of more than 85,000 pigs.
The first case was reported in the northern province of Hung Yen before the disease spread out to 22 other localities.
In early April, Hanoi, Hung Yen and Hai Duong announced that they had successfully contained the disease.
The northern provinces of Hoa Binh and Bac Kan became first localities to completely eradicate African swine fever.
African swine fever is a fatal infectious disease caused by a virus which spreads rapidly among pigs. It is not harmful to humans.
The World Organisation for Animal Health revealed that some 20 countries have reported African swine fever since 2017, disposing of more than one million pigs.
The three main causes for the wide spread of African swine fever are unsterilised vehicles and people, feeding leftover food to pigs and the transportation of infected animals.
Vietnam is one of three Asian countries suffering from African swine fever, along with China and Mongolia.
VNS