More than 8,300 traffic accidents occurred in the country in the first half of this year, which left 3,810 people dead and over 6,300 others injured, according to the National Committee for Road Safety.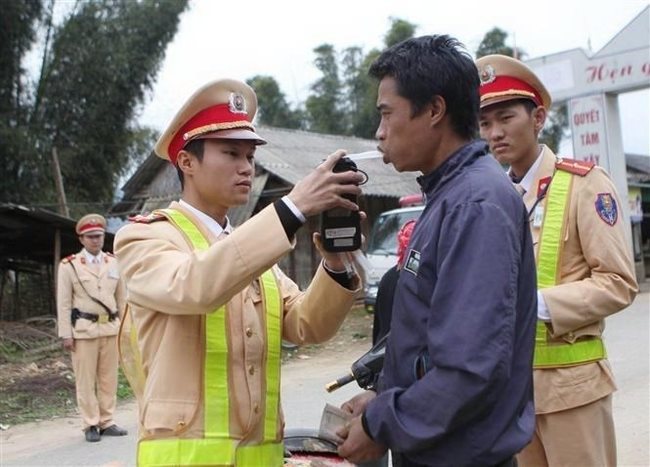 A police officer gives a driver a breath test in the northern mountainous province of Lai Chau. Road mishaps led to more than 10,000 casualties in the first half of 2019
In its latest report, the committee said that Vietnam saw a decline in road accidents in the first six months, while the number of prolonged traffic jams registered a rise.
Compared with the first half of 2018, the number of traffic accidents dropped by 7.1% to 641, the death toll declined by 7.5% to 311, and the number of people injured fell by 9.6% to 679.
There were 19 serious accidents which claimed a total of 73 lives and left 87 people injured.
The rate of fatalities in road mishaps declined year-on-year in 47 major cities and provinces, while 11 other localities saw the opposite trend, stated the report.
It also indicated that 46 heavy traffic jams, which lasted over half an hour, took place between January and June, an increase of 17% from a year earlier.
Vehicle crashes were blamed for 33, or 71.7%, of the traffic jams, while excessive number of vehicles led to 7, or 15.2%, of the traffic jams.
In January, the Ministry of Transport launched a plan for improving traffic safety for this year, which included measures for raising public awareness and ensuring compliance with traffic rules, among others.
The plan aims to reduce the numbers of traffic accidents and casualties by 10% compared with the previous year.
The ministry has also ordered the Directorate for Roads of Vietnam to tighten the granting of licenses to drivers of both cars and trucks, with changes in driving lessons, instructors, and practical behind-the-wheel tests.
The move came following a severe accident in the southern province of Long An, where a container truck slammed into dozens of motorbikes waiting for the green light at an intersection in early January.
The crash killed three people on the spot and injured 17 others. One more person succumbed to injuries at the hospital. The truck driver was later found to have been under the influence of both drugs and alcohol.
The ministry has asked transport firms to ensure their drivers undergo medical checkups and immediately fire those who test positive for drugs. SGT