Five days after Vietnam's biggest city launched the largest-ever vaccination campaign, more than 400,000 people have been vaccinated, said Director of the Ho Chi Minh City Department of Health Nguyen Tan Binh at a press conference yesterday.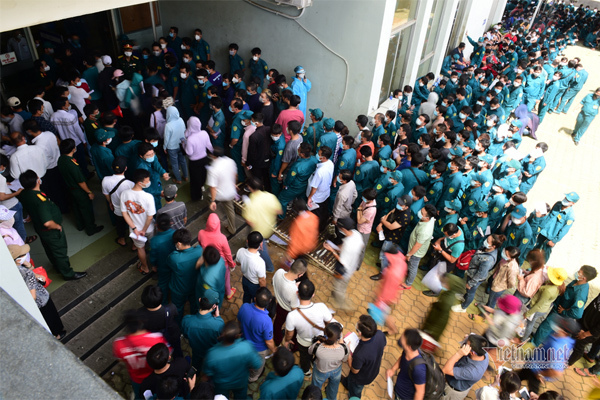 People queue for vaccination in HCM City.
On June 17, the Ministry of Health decided to transfer 836,000 doses of Covid-19 vaccine to Ho Chi Minh City, which is now Vietnam's largest pandemic hotspot.
According to regulations, 10 groups of people are being prioritized for vaccination, including workers in industrial parks, export processing zones, frontline forces in epidemic prevention, people working in essential fields, people living in high-risk areas...
The city plans to vaccinate 2,000 people per day per vaccination site, and the campaign will be completed in seven days.
According to Mr. Binh, the city began vaccinations on the afternoon of June 21. "Because it was the first day, there were still many shortcomings, so the number of people vaccinated was not high," said Binh.
On June 23, more than 122,000 people were vaccinated and the number rose to more than 172,000 people the next day. By June 24, over 400,000 people in the city were vaccinated.
After screening examinations, over 40,000 people were not eligible for vaccination. "These people will be screened again and will be vaccinated," Binh said. Binh said that on June 24, the Ministry of Health sent 200 doctors to HCM City to assist with screening examinations.
The city set up 290 vaccination teams, consisting of two doctors, and three medical staff on each team. Each vaccination site has the support of local security forces and civil defense and local medical staff, plus four volunteers.
Ho Van - Tu Anh

The Ministry of Health this afternoon, June 23, reported 80 more domestic Covid-19 cases in seven provinces and cities, with HCMC detecting 40 infections that raised the city's total number during the latest coronavirus wave to 2,013.