The Supreme People's Procuracy has arrested and commenced criminal proceedings against eight heads of the Thang Long multi-level marketing company for alleged fraudulent appropriation of assets.
Heads of fraud company arrested
MLM crackdown turns to Amway on July 18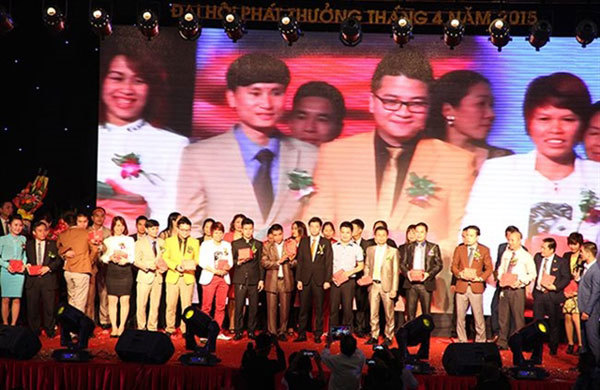 An event held by Thang Long Group to gain trust from investors who believed they could make easy money from the company. – Photo vietnamfinance.vn
The eight defendants included company chairman of the board Le Van Quang, director Pham Ngoc Tuan, deputy director Vu Dinh Hung, head of Information and Technology Do Van, head of communication Huynh Trong Nghia, head and deputy head of education Nguyen Hong Thai and Nguyen Thanh Nam, and head of accounting Hoang Hai Yen.
The leaders, along with accomplices, were accused of scamming 36,000 people and appropriating a total amount of more than VND706 billion (US$30.3 million).
In the indictment issued by the procuracy, this was a particularly serious case.
Le Van Quang, together with other defendants, established Thang Long Group with a system of companies in many fields of education, IT, finance and communication to gain trust from investors.
The Thang Long Franchise Limited Liability Company, which was headquartered in the Trung Hoa-Nhan Chinh new urban area in the capital city's Cau Giay District, obtained a multi-level marketing licence on December 24, 2014.
Since then, it opened 21 agencies nationwide and recruited tens of thousands of people to join its business network.
Operating as a pyramid scheme, the company launched different promotion programmes and promised clients they would recover their money within a year.
However, the amount of commission clients received was much lower than what the company promised.
As many as 36,000 clients were registered and paid more than VND706 billion (US$30.3 million) to the company.
The defendants paid nearly VND30 billion ($1.29 million) to purchase goods which were then sold to the clients.
Currently, 1,540 victims have come forward and asked for compensation totalling more than VND110 billion ($4.7 million).
Based on the investigation, eight defendants had civil liability for the entire amount of VND706 billion for 36,000 victims, but have been asked to pay VND110 billion. For other victims, the compensation would be dealt with following civil proceedings.
Based on results of Ha Noi Taxation Department, the company avoided tax of more than VND35 billion ($1.5 million).
However, as this income was illegal, the investigation agency would not seek criminal charges of tax evasion.
Previously, in September, 2016, the Ministry of Finance demanded the company stop all sales activities nationwide and return money to its clients in accordance with regulations on multi-level marketing.
In August, 2016, the company was fined VND450 million ($19,800) for a series of violations related to multi-level marketing regulations.
These included failing to report changes in their application for a multi-level marking licence, signing more than one contract with one client, recruiting clients unqualified for multi-level marketing and not registering its conference, seminar and training workshop venues with the city's Department of Industry and Trade.
The company also provided false information about its nutrition products and did not allow clients to return the products after purchase.
VNS