All three facilities of Vietnam's National Cancer Hospital, also known as K Hospital, in Hanoi were put under lockdown from 5:30am on May 7, after 10 COVID-19 infections were recorded in the hospital's Tan Trieu facility.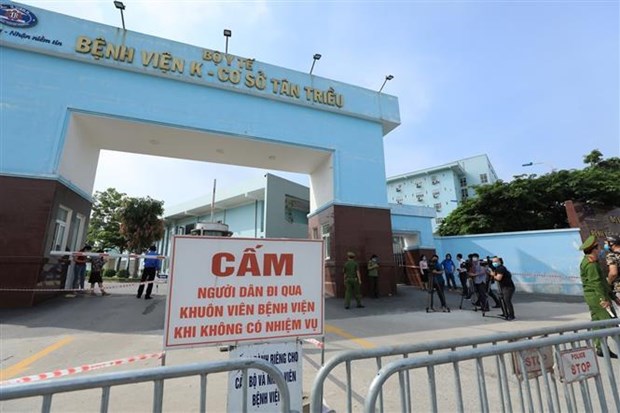 K Hospital's Tan Trieu facility put under locdown 
On May 6 evening, the capital city's Centre for Disease Control (CDC) also reported additional three cases, including two in Thuong Tin district and one in Dong Anh district.
The case in Dong Anh is related to the outbreak in the National Hospital for Tropical Diseases No.2, which was earlier put under lockdown on May 5.
Meanwhile, the two patients in Thuong Tin district are related to Muong Thanh Hotel in central Da Nang city where a Chinese national who tested positive for the coronavirus stayed.
The Hanoi CDC is coordinating with the medical centres of the two districts to trace those with possible contacts with the patients.
One more new infection was also detected in the northern province of Ha Nam on May 7 morning. The patient is related to the outbreak in Dao Ly commune in Ly Nhan district where 14 cases had been confirmed by the Health Ministry.
Hanoi-based hospital disinfected after COVID-19 infections
Soldiers from the Vietnamese army's chemical division on May 6 disinfected the Hanoi-based National Hospital for Tropical Diseases which has been a COVID-19 hotspot in the latest outbreak.
The hospital, located in Hanoi's outlying district of Dong Anh, has been put under 14-day lockdown, starting May 5 after a doctor was found infected with the novel coronavirus SARS-CoV-2.
About 400 employees of the hospital are being quarantined there.
During the lockdown, the hospital, which was once the frontline facility in the pandemic fight, will admit only new COVID-19 patients.  
The Ministry of Health said the pandemic cluster at the hospital originated from its inpatient treatment ward.
Since the new outbreak hit Vietnam on April 27, 42 cases linked with the hospital cluster have been reported, including two doctors./.
One COVID-19 infection documented during past 12 hours
One COVID-19 infection was reported in the past 12 hours to 6am May 7, the Ministry of Health said on May 7.
The new patient, in the central province of Thanh Hoa, came into close contact with a group of Chinese experts who were found positive with the SARS-CoV-2 virus after completing quarantine period following arrival.
With the latest case in Thanh Hoa, Vietnam has logged 3,091 COVID-19 cases, including 1,691 local transmission cases with 121 COVID-19 infections since April 27.
The ministry's Department of Medical Examination and Treatment Department said the country has seen 2,560 recoveries so far.
A total 40,736 people who came in close contact with COVID-19 patients or arrived from pandemic-hit areas are under quarantine nationwide, including 560 at hospitals, 21,733 other quarantine sites, and 18,443 at home.
Among patients under treatment, 24 have tested negative for SARS-CoV-2 once, 12 twice, and 38 thrice.
A total of 747,827 frontline medical workers and members of community-based anti-COVID-19 groups in Vietnam had been injected with COVID-19 vaccine as of 4pm on May 6. The country began its COVID-19 inoculation campaign on March 8.
In a bid to live safely with the pandemic, people should strictly follow the Ministry of Health's 5K message: khau trang (facemask), khu khuan (disinfection), khoang cach (distance), khong tu tap (no gathering), and khai bao y te (health declaration)./. VNA

Experts said that it is necessary to carefully consider the sample collecting techniques used for Covid-19 tests.