A national exam hotline will be active from June 6 until August 4 to receive information related to the country's biggest exam, according to the Ministry of Education and Training.
Three teachers arrested over exam cheating
Cheating scandals in northern provinces to be reported at NA
Son La caught in high school exam cheating scandal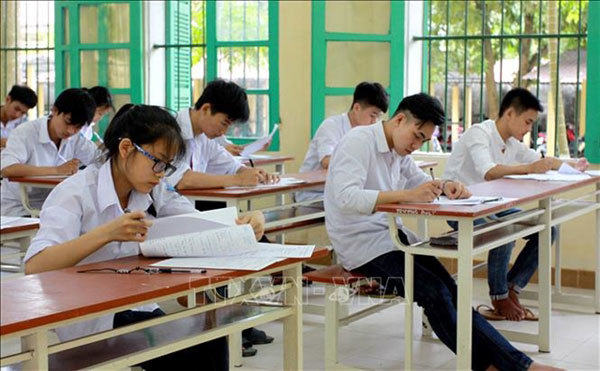 Students sit for the national exam in northern Thai Binh Province. — VNA/VNS Photo
The hotlines are 024.36231285 and 0923.006.757.
This is part of an exam inspection plan approved by the ministry.
Exam violations and proposals for exam regulations can be reported to the hotline.
The exam inspection will focus on preparation, marking tests and updating scores on the system.
The national exam this year will take place from June 24 to 27.
Scores of the tests will be used for high school graduation and university entrance.
This year the exam inspection has been stepped up after a series of cheating scandals were discovered last year.
About 200 candidates in the three northern provinces of Ha Giang, Son La and Hoa Binh had their scores modified upwards.
Many of them were children of provincial officials and enrolled in prestigious schools of police, military, medicine and education.
All of the modified test results were dismissed.
VNS