Among nine subjects in the National High School Examination this year, History remained the subject with lowest average score despite all subjects seeing increased averages from last year's exam,
according to the results released by the Ministry of Training and Education on Sunday.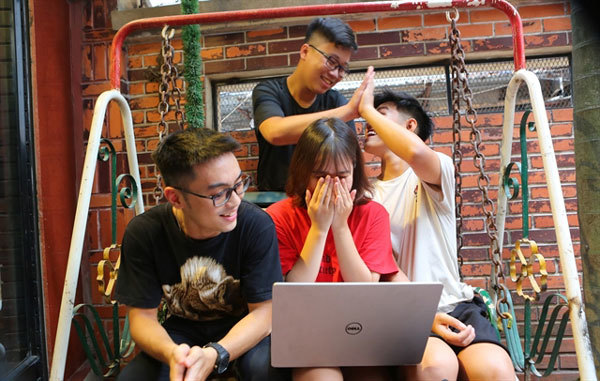 The Ministry of Education and Training announced the results of the National High School Examination on Sunday. Students can find their scores online. — VNA/VNS Photo Thanh Dat
A total of 569,905 students took the history exam this year but only 80 scored a perfect 10. Meanwhile, 395 students scored under 1.
As many as 399,016 students, more than 70 per cent, got scores under 5.
The most common score was 3.75, with 43,449 students getting that score.
The average score in history this year was 4.3 while last year it was 3.79.
The average scores of all subjects included in this year's examination were higher than last year.
The average score in literature was 5.49 (last year's average was 5.45), in math it was 5.64 (up from 4.86), in foreign language it was 4.36 (last year it was 3.91) and in physics it was 5.57 (last year it was 4.97). In chemistry the average score was 5.35 (last year it was 4.87), in biology 4.68 (last year 4.54) in geography 6.0 (last year 5.46) and in Citizenship Education it was 7.37 (last year 7.13).
Notably, 1,265 literature papers got scores of under 1, seven times more than last year, while no student got score of 10 in this subject. These students will have all failed to graduate because literature is a compulsory qualification. As many as 630 students got score of under 1 in English.
Last year, more than 8,660 exam papers got score of under 1, of which more than 2,100 were in English and 1,500 in math.
This year, more than 868,000 candidates sat the national high school examination from June 25 to 27.
Mathematics, literature and a foreign language are compulsory, while students can choose between natural sciences (physics, chemistry and biology) and social sciences (history, geography and citizenship education).
The examination is a major event in Vietnam, with its results used to determine whether a student qualifies for graduation from high school. It acts as a placement test for college and university entrance.
Eighteen students were suspended for violating exam regulations.
VNS