The National Start-up Festival for students took place in the Hanoi University of Science and Technology on October 5.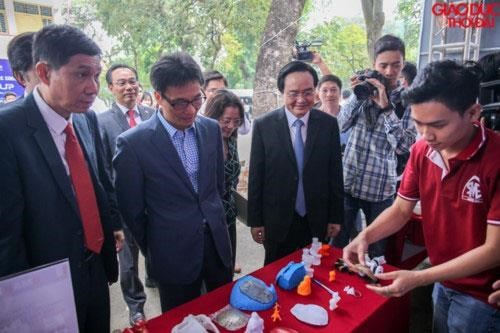 Deputy Prime Minister Vu Duc Dam (second, left) visits a stall at the festival
Speaking at the event, Deputy Prime Minister Vu Duc Dam saidthe government, together with the Ministry of Education and Training,ministries and agencies concerned, are determined to carry out the Project 1665on supporting students in starting up businesses till 2025.
He said the project aims at stimulating the startup spiritin schools and equip students with necessary knowledge on startup, whileconnecting universities, research institutes and regions.
The Deputy PM asked Minister of Education and Training PhungXuan Nha to direct all universities to create at least one innovative workingspace and share valuable learning materials online.
Minister Nha said since the launch of the project two yearsago, many universities and colleges have connected with enterprises andencouraged lecturers and students to join start-up process.
The outcomes of the project can be seen in the surge of thenumber of entries sent to the SV – Startup 2019 competition, which surpassed300 compared to about 200 last year, he said, adding that the ministry will workclosely with the Ministry of Education and Training to launch a nationalstart-up centre project.
It will also work with the Ministry of Information andCommunications to shape priority and orientations for start-ups, and withFinance Ministry to help universities set up funds for the effort.
Several forums and seminars on start-ups and innovation werealso held at the event. Notably, 68 most outstanding projects entered the finalround of the SV – Startup 2019 competition.
The festival was also sponsored by a number of businesses./.VNA