The city's leader asks local authorities to ensure enough resources to deal with the epidemic in the worst scenario.
Chairman Nguyen Duc Chung of the Hanoi People's Committee has signed a plan envasaging the worst scenario amid the rising number of infected and quarantined cases.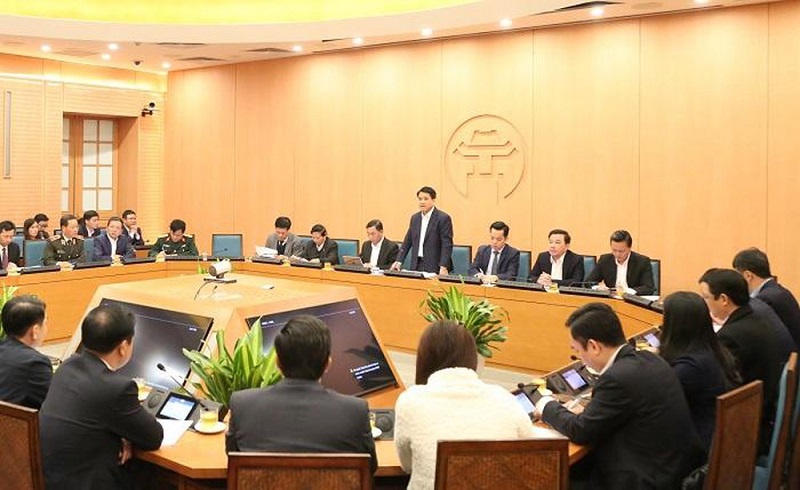 Chairman Nguyen Duc Chung of the Hanoi People's Committee chairs a meeting on Jan 31. Photo: Kinhtedothi  
The plan aims to prevent and detect suspected cases for early checkup to minimize impacts.
Under the plan, the contingent plans are classified as four levels namely initiate outbreak, secondary infection, transmission with more than 20 cases, and widespread epidemic with more than 1,000 cases.
Accordingly, the city has proper responses to each level to ensure enough resources to control the outbreak.
Municipal departments, including health, finance, transport, police, environment, education and training, and tourism, have been asked to closely coordinate efforts to manage the prevention, treatment, and logistics.
In another move, the mayor requested local authorities and health sector to boost the production of medical masks to ensure around 15-20 million units in stock and deliver to its citizens in case of outbreak.
Vietnam declared the national outbreak on February 1 after it confirmed a person-to-person transmission case who are among 7 infections so far. Hanoitimes
Linh Pham

Vietnam Airlines is resuming flights between Vietnam and Hong Kong, Macau and Taiwan (China) as from February 2 after the civil aviation authority permitted the resumption to repatriate affected passengers amid the novel coronavirus (nCoV) epidemic.

A citizen of the US has been tested positive for the acute respiratory disease caused by the novel coronavirus (nCoV), becoming the 7th nCoV-infected case in Vietnam so far.