Crimes related to drug dealing and trafficking had been on the rise in HCM City in recent years, said Đinh Thanh Nhàn, deputy head of HCMC Police.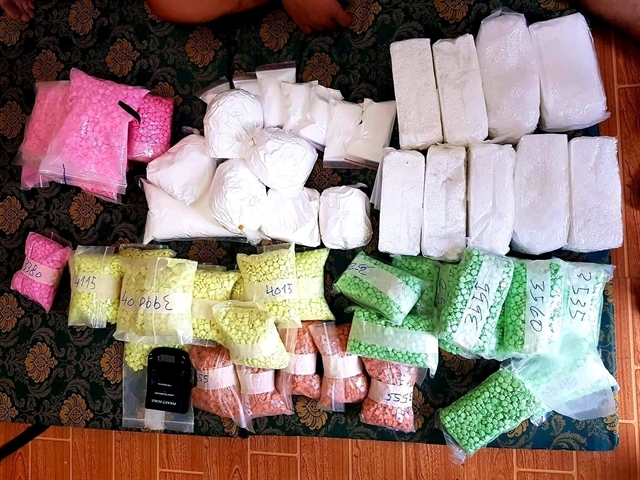 Seized ketamine and ecstasy at a police station in HCM City. The drug crime investigation police department announced on Wednesday it hadbusted a ring supplying synthetic drugs for clubs and bars in HCM City, arresting fivesuspects and seizing15kg of ketamine and 50,000 ecstasy pills.
Crimes related to drug dealing and trafficking had been on the rise in HCM City in recent years, said Đinh Thanh Nhàn, deputy head of the city police.
He made the statement at a meeting held in the city on Friday to review drug prevention and control work.
Since 2010, the city has detected more than 15,500 drug-related cases and arrested 31,000 people.
In the first nine months of this year, police dealt with more than 1,278 drug cases and detained 3,000 people, an increase of 147 cases and 528 suspects in comparison with last year.
Around 331kg of heroin, nearly 1.3 tonnes of synthetic drugs of various types, 16kg of marijuana and 1.4kg of cocaine was seized during that time.
Nhàn said the quantity of seized synthetic drugs had increased 105.8 per cent per year on average in the past five years.
"Drugs have become a threat to the development of the country, harming people's health and leading to many types of dangerous crimes," Nguyễn Thiện Nhân, secretary of HCM City's Party Central Committee, was quoted by Tuổi trẻ (Youth) newspaper as saying.
Prevention and detoxification measures in HCM City had not been effective.
Nhân said this was due to a number of reasons including a hike in global drug crime and a lack of synchronisation between legal system and drug prevention work.
He said local authorities had not paid adequate attention to the issue, and a lack of resolve to do something about it was also a problem.
To improve the effectiveness of drug prevention and control work, organisations involved in the trade and transportation of drugs should be wiped out, Nhân said.
Effective measures should be adopted to prevent drug trafficking in Việt Nam and stop it from becoming a drug transit hub.
It was also necessary to improve detoxification and post-detoxification management.
The number of new drug addicts should be reduced while current addicts should be monitored to ease concerns over drug crime, he said.
"It's a must for HCM City to implement a project on drug prevention and control which is relevant to the latest situation," Nhân said.
In related news, HCM City Police has proposed community-based treatment for all addicts with active involvement from the State, families and society.
Phùng Văn Đẳng, deputy head of the drug crime investigation police division, made the proposal at a press conference on Thursday.
He said managing drug addicts was a challenge.
HCM City has some 24,000 registered addicts, but the actual figure is thought to be much higher.
To enhance these efforts, Đẳng said strict punishment should be imposed on owners of establishments where drug violations took place.
Residents should also be informed about the tell-tale signs that show drugs are being manufactured in their neighbourhoods so they can report the matters to the police. — VNS