Vietnam's population is rapidly ageing, and along with the increasing number of elderly people, comes a boom in start-up businesses among them.
Vietnam assisted to meet needs of aging population
Vietnam builds policy in response to aging population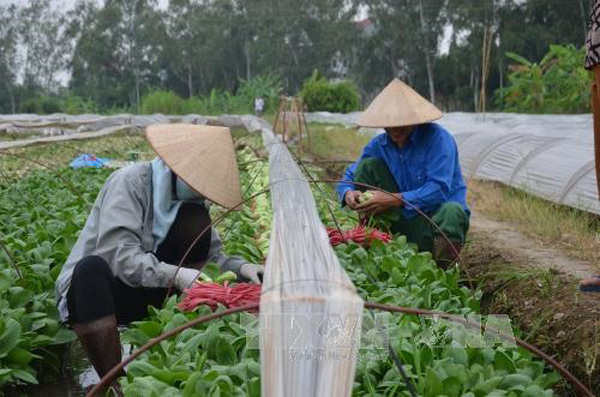 Illustrative image -- File photo
According to a report, in 20 years the rate of people over the age of 65 will rocket from 7 per cent to 14 per cent of the population. By 2038, the senior group in Vietnam will take up 20 per cent of the population, meeting the criteria of an ageing society, and many people will be living in poverty.
Starting up a new business in the winter of life sounds odd to some, but it is one way to guarantee social security, so the elderly can devote themselves to society, and live well and happily in an ageing society.
Japan is one example where starts-up for old people are flourishing, as some businesses in the country are designed for them to succeed in, like taxi drivers, farmers, factory and office workers.
According to the Ministry of Labour, Invalids and Social Affairs, nearly 46 per cent of old people in Vietnam are still working and get paid.
It's easy to find start-ups run by the elderly and elderly people that still make contributions to various sectors, including taking positions in the grassroots political system.
Not long ago, I (Duong) visited a farm in Hoa Hiep Commune, Xuyen Moc District in the southern province of Ba Ria-Vung Tau and had an opportunity to talk to a farmer who established a garden–fish pond–poultry shed business model at the age of 60 when he retired and "had plenty of free time".
From several orchard trees in a small land lot, he expanded the farm and planted pomelo, mandarin, coconut trees in his 5 hectare garden.
He earns about VND300 million (US$13,000) a month from fruit, chicken and fish raised in his garden, which also creates jobs for local young people.
He said this had been a passion that he nurtured during his youth but was unable to pursue. Now that he was old, it was the right time to do that.
Another senior that I know in the Central Highlands never seems to lack energy and enthusiasm. After retiring, he opened a business and takes part in local social activities.
"Old people still need to work so that we feel we are still helpful for society and make ourselves healthier. Of course, depending on the state of health, each person can choose suitable work.
"It is possible for the elderly to do start-ups. There should be appropriate policies to encourage old people to do business when the longevity of the Vietnamese is getting higher," he said.
With their work and life experience, old people can have a leg up in business.
However, there are problems, as some investors don't trust those over 30.
A 27-year-old worker said Bill Gates, Steve Jobs, Larry Page or Mark Zuckerberg started up at 20 and were successful.
"They also have better and creative ideas, more dynamic and focus on the target," he said.
Nevertheless, a colleague of mine argued that was not right for all situations.
"Older starters have the advantage of accumulating more experience and capital in their entire life and career, especially in service fields. They can predict better what comes next in the future, be patient, firmly, and have some savings. One example is Robin Chase, a 40-year-old mother with three kids before being successful with her first car-sharing company Zipcar," he said.
At a working session of the National Assembly's Committee for Social Affairs, Minister of Labour, Invalids and Social Affairs Dao Ngoc Dung said Vietnam needed to study policies for the elderly, especially policies to encourage them to continue to work.
"Vietnam can learn from Japan in offering start-up policies for the elderly," he said.
"There are more than 11 million old people nationwide. Most of them, about 7.2 million, live in rural areas. Among 11 million old people, 6.5 million are disabled."
Such people face life challenges and limited access to social services.
"Social allowance for the elderly and the disabled remains low. Therapies, especially psychological therapies, remain limited."
Sharing the same opinion with Duong, I (An) think that is an encouraging proposal that lawmakers need to take into consideration. However, the policies must be combined with creating favourable conditions, for example, offering loans to help old people establish and develop their businesses.
While the elderly launching a start-up isn't new across the world, in Vietnam we need more support from various sides so seniors can contribute their best for society.
by An Vu and Duong Nguyen
VNS