Police have launched an investigation into nine people allegedly involved in bidding and accounting fraud on the HCM City-Trung Luong expressway project, a major toll road in southern Vietnam.
Dinh Ngoc He sentenced to 12 years in jail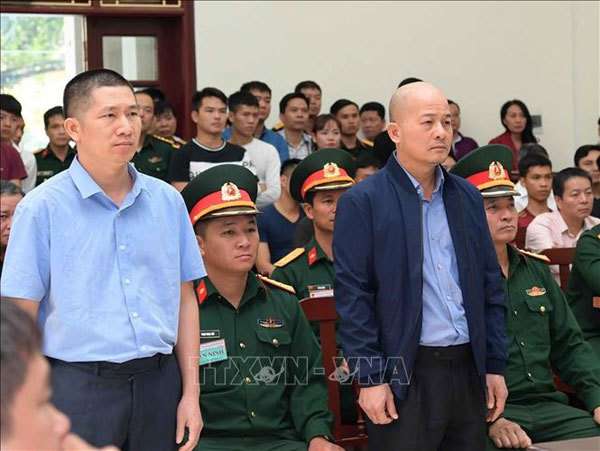 Dinh Ngoc He (standing, right) seen in a previous criminal trial last October. - VNA Photo
Senior executives of investor Cuu Long Group under the Ministry of Transport – including former Director-General Duong Tuan Minh, former Deputy Director-General Duong Thi Tram Anh, and former head of the investment and bidding management department Nguyen Thu Trang – have been charged with violations of State asset management regulations, causing losses.
The State-owned group is alleged to have conspired with the privately run Yen Khanh Group to falsify data regarding toll collections on the expressway.
Dinh Ngoc He, a former military colonel, together with Pham Van Diet, CEO of Yen Khanh Group, and Vu Thi Hoan, Yen Khanh's Director-General, are charged with accounting violations, leading to "serious consequences", as per Vietnam's Penal Code.
These three defendants had already been detained for their involvement in another ongoing case.
Three other employees of Yen Khanh – Ta Duc Minh, Pham Tan Hoang and Dinh Thi Chung – were also charged with accounting fraud.
The construction of the 62km-long HCM City-Trung Lương expressway started in 2004 and opened in 2010.
In 2012, under a proposal from Cuu Long Group, the Government agreed to open bidding for a third-party to collect tolls on the road to recover the VND9.88 trillion (US$424 million) the Government spent on the construction of the expressway.
Yen Khanh Group won part of the deal worth VND2 trillion and was permitted to collect tolls from 2014 until the end of 2018.
Under the contract, Yen Khanh should have paid for the deal in three installments before October 2014. However, it took the company 15 payments with the last being paid in March 2017 to settle the amount.
Earlier this year, police opened a case looking into how the company's branch in Long An Province had used fraudulent software to manipulate the money actually collected on the toll road.
Five people were arrested in connection with the case.
VNS