Nine skeletons were found Thursday at a house in Phuoc Thanh Commune, Go Dau District, the Mekong Delta province of Tay Ninh.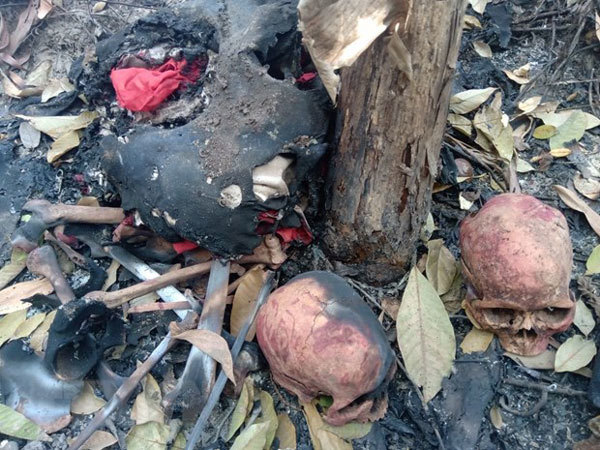 Parts of the two skeletons discovered in a lake. — VNA/VNS Photo Le Duc Hoanh
On Thursday, Dinh Van Phong, a resident in Phuoc Thanh Commune, reported to the communal district that he had discovered two human skeletons wrapped in cloths in an abandoned pond behind his house.
Officers inspected the area and found seven more skeletons hidden in a property belonging to Cao Thi Cam Van, a 63-year-old widow who also lives by the pond.
According to initial testimony, Dinh Van Xuong, Van's husband, who has passed away 11 months earlier, told her five years ago that someone was willing to buy human skeletons for VND100 million (US$4,300) each. Xuong then went to Dak Lak Province in Central Highlands to buy these skeletons, hoping to make a profit from the sale.
However, he was unable to find a buyer for the human remains and the bones remained stored in the house.
Van said she did not know who Xuong bought these skeletons from or how much they cost.
When he fell ill, Xuong told Van about the two skeletons stored under their family's reservoir, which had been long abandoned.
Four months after his death, Van took the remains and threw them in the pond near her house.
She claimed she also had no knowledge of the seven newly discovered skeletons.
Tay Ninh Province Police is collaborating with the Ministry of Public Security on investigating the case and identifying the remains. — VNS