The south-central province of Ninh Thuan is using laser-operated land levellers on large rice fields to increase yield and efficient use of irrigation water.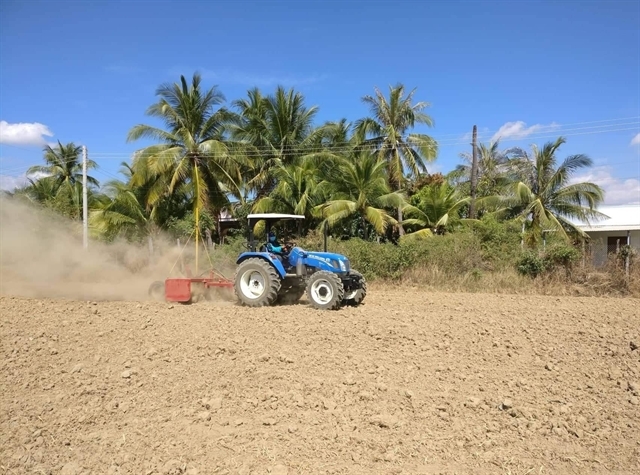 A laser land leveller on a rice field in Ninh Thuận Province prevents irrigation water runoff. The province has the lowest rainfall in the country.
A laser-operated drag bucket creates a flat surface on the rice fields, allowing irrigation water to reach every part of the field, thus reducing water run-off or logging.
The province has the lowest rainfall in the country and its rainy season lasts only from September through November.
The province's Agriculture Extension Centre began using the machines in the 2018-19 winter-spring crop in Ninh Phước District.
A total of 30 farm households from several agricultural co-operatives have participated.
The farming households with contiguous fields created large rice fields where the cost of laser levelling is VNĐ9.5 million (US$407) per hectare.
The centre provided 100 per cent of the cost of levelling their fields and 70 per cent of the cost of seeds, fertiliser and pesticide.
Participating households used Đài Thơm 8, a new high-quality rice variety for cultivation with a yield of 8 tonnes per hectare, up about 500 kilogrammes compared to fields used with conventional levelling.
Đài Thơm 8 paddy sells for VNĐ700-800 a kilogramme more than normal paddy.
Nguyễn Tin, director of the centre, said training in using the leveller was provided to farming households. With the machine, there is less need for fertiliser, pesticide and irrigation water.
If the rice fields are laser-levelled properly, it only needs to be done again four years later.
Mai Phong Tuấn, director of the Ninh Quý Agricultural Service and Trade Co-operative in Ninh Phước's Phước Sơn Commune, said the machine reduced the use of seeds from 200-250 kilos per hectare to 170 kilos.
The profits from this model are VNĐ14.3 million ($614) per hectare, or VNĐ7.5 million ($322) more compared to normal fields, he said.
For the ongoing summer- autumn crop, the province's People's Committee targets using the technique on 28.5ha of rice fields.
The centre in co-operation with agricultural co-operatives has used the technique on 25.4ha in three districts.
The province has given VNĐ267 million ($11,450) to agricultural service co-operatives in two of the three districts to buy equipment for laser levelling.
Trần Quốc Nam, deputy chairman of the People's Committee, said the province was the first in the south-central region to use the technique.
The People's Committee has instructed the local Department of Agriculture and Rural Development to expand the model to other localities. — VNS