Noi Bai International Airport has advised passengers to arrive earlier due to over-crowding around Tet holiday.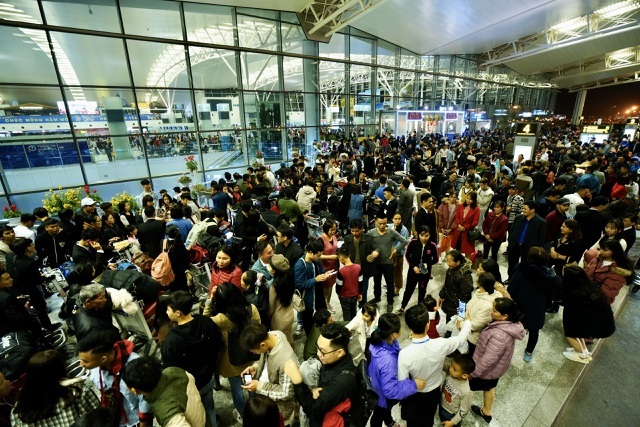 Overcrowding at Noi Bai Airport
During Tet holiday, Noi Bai Airport will receive 715 flights a day, much higher than the usual 550 flights and a 16% increase compared to the last Tet holiday.
The highest number of passenger is expected to reach 115,000 a day, higher than the usual 80,000 passengers and a 13% increase compared to the previous Tet.
The busiest days will be from January 15 to 24 and on January 29. In order to avoid missing flights, passengers were advised to arrive at the airport three hours earlier for international flights and two hours earlier for domestic flights.
Passengers without check-in baggage were encouraged to use online check-in services or check-in kiosks at the airport.
Noi Bai Airport has asked families not to go to the airport to see anyone off to avoid overcrowding, especially during peak hours from 8 am to 11 am and from 7 pm to 11 pm.
The airport suggested that passengers should use the airport's taxi, minibus and bus to avoid overcharging.
Noi Bai Airport managers said they had checked all equipment and tightened security as well as worked with partners to try and ensure a trouble-free Tet Holiday period. Dtinews

No State capital will be provided for the construction of the Tan Son Nhat Airport's T3 Terminal, Deputy Prime Minister Trinh Dinh Dung has announced.

Thousands of people are causing havoc at Tan Son Nhat International Airport as large family groups welcome relatives returning home for the Lunar New Year. The pick-up zone at the international terminal is jammed even at night.