Noi Bai International Airport has received a rising number of people returning from European countries.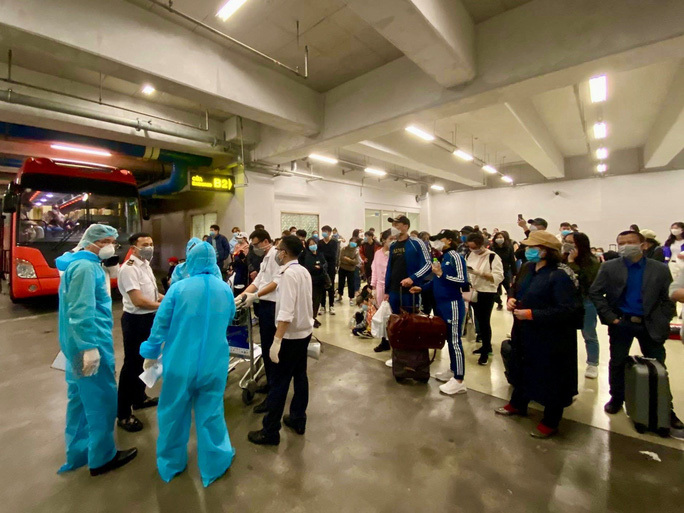 Noi Bai prepares for influx of people returning from the EU
On March 15, the National Steering Committee for COVID-19 Prevention and Control's team led by Deputy Minister of Health Do Xuan Tuyen visited Noi Bai Airport to inspect the prevention work, hospitality for passengers and management process.
As of early March 15, 683 samples have been taken at the airport from people returning from the EU, double the original estimate. Hanoi's health sector has sent 90 workers to help to take samples and send them for testing to reduce waiting times. The airport's customs department also called for 20 more employees to help with clearance.
Deputy Minister of Transport Le Anh Tuan said it was impossible to predict how many people from the EU would return to Vietnam but he was sure the number would be high. The number of people returning from affected areas that needed to be checked on March 15 had tripled compared to the previous day.
Tuyen said the steering committee had already sent an official document to the Ministry of Public Security, Ministry of Defence, Ministry of Foreign Affairs, Ministry of Transport and local authorities about regulating and quarantining the passengers.
The Ministry of Transport must quickly report the number of flights and passengers as well as estimated landing times and airports to the related agencies for preparations. They must also estimate the number of passengers returning from affected areas and have plans to regulate the traffic at Van Don, Chu Lai and Can Tho airports.
Medical forms should be filled out on planes. If there is congestion, passengers will be sent to the quarantine zones to fill out the forms and have samples taken. Airport managers were asked to have separate rooms for transit passengers.
Noi Bai Airport was asked to assign detailed tasks to the personnel on the Covid-19 prevention team, have prepared plans for a huge influx of passengers and carry out frequent disinfection at the airport. 
Treatment intensifies for British Covid-19 patient
Vietnam is trying to save a British male tourist who tested positive for Covid-19 whose health condition has got worse.
The Department of Medical Examination and Treatment on Sunday held an online consultation on the condition of Covid-19 cases in Vietnam with the participation of many specialist doctors.
As of Sunday night, Vietnam had 57 COVID-19 patients, with the latest four being Czech, Latvian, German and British. 16 have been successfully treated and recovered. A total of 41 patients are being treated at different hospitals across the country. 17 of them are foreigners and 24 are Vietnamese.
Most of them were in stable condition with normal temperatures and breathing, but some have mild coughs.
However, a 69-year-old male tourist from the UK has worsened as he has other diseases such as high blood pressure and diabetes. He is staying at the National Hospital for Tropical Diseases No 2 in Hanoi's Dong Anh District. He now has to use a ventilator.
Under the Health Ministry's Department of Medical Examination and Treatment's instruction, Bach Mai Hospital in Hanoi sent an urgent response team to the National Hospital for Tropical Diseases to support the treatment of Covid-19 cases, particularly the British patient.
Doctors and medical staff are also advised to be cautious to avoid being infected with the virus.
Every day, hospitals have to report on the condition of the patients to the Department of Medical Examination and Treatment before 3 pm.
Nguoilaodong/Dtinews

Italy, Spain and France all report grim new figures for fatalities from the coronavirus.

CEO of Vietnam Airlines Duong Tri Thanh said on March 14 evening that the national flag carrier has made some adjustments to its earlier announcement on flights between Vietnam and Europe.