Born and bred in Van Phuc Village in Hanoi's outskirts Thanh Tri District -- a traditional craft village once famous for bamboo weaving – Nguyen Thi Thanh Huong was taught basic weaving skills when she was just four years old.
When weaving was the village's major business, she spent all of her spare time with her family making bamboo products, just like her neighbours. The young girl never imagined that one day it would be her who brought a "new concept" to the village's traditional products.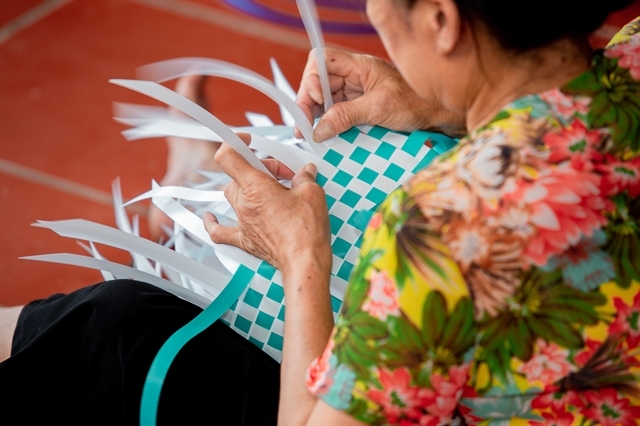 Leaving home to pursue her studies at the Teaching College and then the Capital University of Economics and Business in Beijing, Huong was no longer involved with the craft until a chance encounter with a Japanese entrepreneur a year ago.
"It was when I was working for Shonan, an investment consultancy for Japanese entrepreneurs," she recalled. "A client was disappointed to hear that her order of 100 woven plastic tote bags -- a favoured item among many Japanese women -- had been rejected by a Vietnamese workshop."
Though aware that sometimes business deals do fall through, she felt sorry for the client and agreed to take the order herself.
"I still can't explain how I could have been so hasty in taking on that order. Maybe I was over-confident about my weaving skills, but I had acquired them during the course of my lifetime. Anyway, I felt like I could make a childhood dream come true."
To fulfil the contract and meet the client's quality requirements, the ambitious young woman had to search the internet for information on exactly how to create a plastic wicker bag.
"The weaving techniques for traditional bamboo and plastic rattan bags are basically the same," she said. "But as the plastic rattan bags were new to me, I wanted to dig a little deeper into how they are made."
While bouncing around the internet, she found a wicker weaving class in the south-central province of Ninh Thuan. She signed up without hesitation, and that single move changed her life completely.
On the first day, she was a little unsettled by the fact that her classmates were all poor local people from the Raglai ethnic minority. "Many were barefoot," she recalled.
At that moment, a thought flashed through her mind. She wanted to do something to revive the fading craft of her home village in Thanh Tri.
"I was thinking how to elevate what was quite a simple product into one that could sell at a higher price," she explained. "Once weavers can earn a higher income, they will stay with the craft."
Back in Hanoi after the class wrapped up, Huong fulfilled her first-ever contract for wicker tote bags together with a group of weavers in the village
Community engagement
With positive feedback from that first client, Huong received other orders from other customers. As the workload rose, she had to recruit more and more weavers. And she found that working with the disadvantaged gave her special motivation
"Being able to offer them jobs encouraged me to get the business off the ground," she remembered. "Beyond just an income, I was giving them hope and confidence."
Feeling inspired, the young businesswoman decided to name her wicker bags "Share Happy Hanoi".
"Our aim was to make our customers happy with nicely designed bags meticulously crafted by disadvantaged people and weaving artisans," she added.
Alongside the disadvantaged weavers, Share Happy Hanoi has also co-operated with several other groups of disadvantaged people to knit shoulder straps or sew the lining.
The founder of Share Happy Hanoi said that when her business develops further, she will continue to co-operate with the Disabled People Associations of all districts in Hanoi to open vocational courses and support them to earn a living.
Alongside focusing on creating jobs for the disadvantaged, Share Happy Hanoi has also focused on using recycled materials.
"As our clients are international, they also have requirements on environmentally-friendly materials, so we use only international-standard recycled plastic rattan for our products," she explained.
The local brand also pays attention to promoting materials from ethnic minorities.
"To diversify our product designs, we use brocade woven by Thai ethnic people and indigo cloth from the Mong for the bag lining," Huong said.
The enthusiastic and determined businesswoman is now learning about the specific decorative patterns of various ethnic groups, to adapt into her plastic rattan bags.
Like a toddler taking her first steps, there is much that Huong needs to learn to keep her dream business going. But she is fortunate to have a congenial companion, the overseas Vietnamese industrial designer and consultant Noen Nguyen-Bankson, who she met by chance in HCM City when she was studying the market.
"The more we talk, the more I can see her passion for reviving the craft of her home village and at the same time helping the disabled," Nguyen-Bankson said.
"I was surprised by her community engagement. We share a lot of common values, so I am pleased to be supporting her, from designing, logos, and websites to product consultation."
Huong again headed back to Ninh Thuan last month; this time not to attend a weaving class but to teach one.
"Like the class I joined more than a year ago, this one also gathered together ethnic Raglai in need," she said. "Many are earning a living by weaving rattan back baskets, for which they have to spend two days and two nights up in the mountains finding the materials."
"They told me that if they could earn money from weaving wicker bags, they would no longer need to go into jungle, which is hard work. The moment I heard that, I promised myself I would help them become skilled weavers and create jobs for them."
The founder of Share Happy Hanoi also nurtures plans to open similar classes for the Thai in the eco-tourism site of Mai Chau District in Hoa Binh Province, "which is also an ideal venue for DIY workshops for tourists," she said.
VNS

More than 70 handicraft artisans who have made considerable contributions to preserving traditional handicrafts were awarded honourable titles at a ceremony hosted by the Ministry of Industry and Commerce held in Hanoi on Tuesday.