A truck collided head-on with a tractor truck on the stretch of National Highway No 6 passing through northern Son La Province's Chieng Hac Commune early this morning.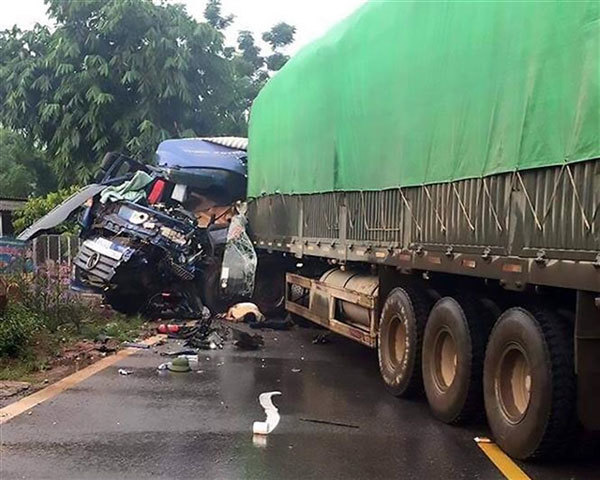 The site of the collision between a truck and a trailer truck on National Highway No 6 in northern Son La Province that left one died. — VNA/VNS Photo
The truck driver was killed. The two vehicles were seriously damaged.
Representatives of the provincial Road Management Sub-department said the accident occurred at 6.40am on Tuesday.
The truck, travelling from Son La to Hanoi, suddenly collided with the trailer truck moving in the opposite direction.
The accident blocked traffic for hours.
On the same day, another collision took place between a passenger bus and a container truck on National Highway 38B in northern Hung Yen Province, leaving 17 people injured.
At 2.30am, the container truck travelling from Hai Duong to Hung Yen Province crashed into the 16-seat passenger bus moving in the same direction in Phu Cu District's Doan Dao Commune.
Nguyen Van Quang, the container truck's driver, said he felt something wrong with the vehicle. He was slowing down and pulling over for a quick check when the passenger bus collided with his truck from behind.
The accident left 17 people, including the driver, injured.
As many as 12 victims were taken to Phu Cu District's General Hospital for treatment.
The cause of the accident is under investigation.
VNS