National authorities have seized nearly 112,500 face masks with unclear origins that were about to be put up for sale on the local market at a time when the public is in dire need of masks due to the Covid-19 outbreak.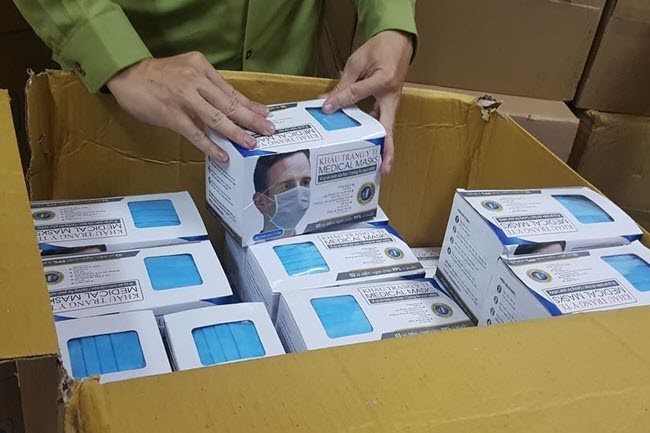 An individual checks a carton of face masks. National authorities have seized nearly 112,500 face masks with unclear origins – PHOTO: VIETNAM DIRECTORATE OF MARKET SURVEILLANCE
Local market surveillance agencies handled nearly 4,500 cases related to the manufacture and sale of these masks from January 31 to noon on February 16, Tuoi Tre reported, citing data from the Vietnam Directorate of Market Surveillance.
The HCMC Department of Market Surveillance discovered Cuu Long Trading Service Medical Equipment Company, located in Son Nhi Ward of the city's Tan Phu District, had put on sale 7,500 masks without official packaging, labels or documentation of the products' origins.
In addition, while examining the business activities of Duc Viet Trading Service Company in the district's Tan Son Nhi Ward, the force found 104,820 three-ply masks stored in 42 cartons labeled "Khang Viet; Three-ply face masks; ISO 9001:2015; Manufactured at Khang Viet Medical Equipment Import-Export Manufacturing JSC; Address: 147A, Provincial Road 830, Luong Hoa Commune, Ben Luc District, Long An Province; Tax Code: 1101931818."
Some 2,100 face mask boxes bearing the same labels were also found.
According to the municipal's market surveillance force, the labels of the masks did not include all the mandatory information. They did not note the products' technical specifications, manufacturing month and expiry date.
Further, Khang Viet Company failed to announce the product standards and quality control methods followed, as required, so the force decided to temporarily seize the batch of masks pending further investigation. SGT

Thousands of people queued for hours on Ho Chi Minh City's Nguyen Gian Thanh Street to buy face masks on February 16.  

The Vietnam National Textile and Garment Group (Vinatex) is exerting efforts to produce around 6 million antibacterial face masks in February to meet increasing demand amid the novel coronavirus disease (COVID-19) outbreak.