The country is presently home to 101,550 skilled foreign workers, according to the latest statistics compiled by the Ministry of Labour, Invalids and Social Affairs (MOLISA).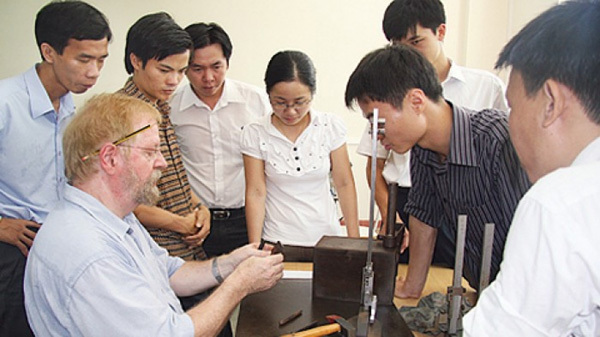 A foreign expert is training new students in Vietnam.
The foreign workers come from over 110 countries and territories globally, with most hailing from China, the Republic of Korea, Japan, and Taiwan.
They typically work as managers, accounting for 12% of the total, managing directors, making up 8%, and experts, accounting for 58%, along with various other professions.
The majority work in major localities, such as Ho Chi Minh City (over 27,000), Long An (more than 5,600), Bac Giang (over 4,600) and Hanoi (more than 4,400).
It is anticipated that an increasing number of foreign citizens will be keen to return to work in Vietnam following the country's successfully control of a number of coronavirus outbreaks.
The impact of the novel coronavirus (COVID-19) epidemic has led to continued labour shortages, especially in positions such as managers and experts, for many local businesses. Indeed, this factor is expected to badly affect the working progress and schedule of a number of key domestic projects.
VOV

As many as 93,720 foreign labourers have been working in Vietnam as of August 2020, according to the Ministry of Labour, Invalids and Social Affairs (MoLISA).

The Government recently issued Decree No 152/2020/ND-CP featuring regulations on foreigners working in Vietnam and the recruitment and management of Vietnamese working for foreign organisations and individuals in the country.