Up to 3,785 cases of drink driving have been handled in the first seven days of 2020, with total fines of more than VND12.5 billion ($539,400).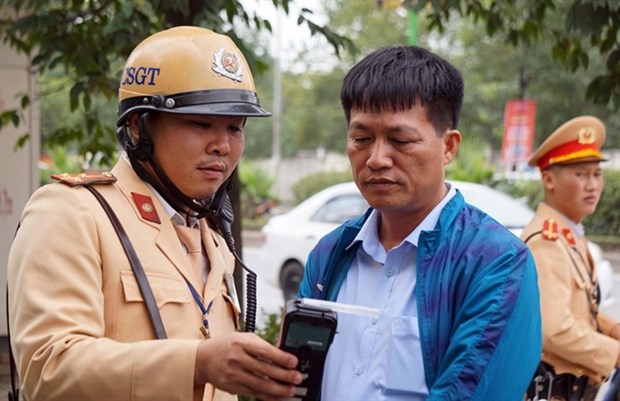 A driver is tested for alcohol level in Hanoi (Source: tienphong.vn)
According to the Traffic Police Department under the Ministry of PublicSecurity, localities with a high number of violations include Tay Ninh, Dak Lakand Bac Giang, with 308, 214 and 203 cases, respectively.

Regarding concerns about the effect of fermented fruit or cough medicine on adriver's alcohol level, a representative from the department said over 150samples [from drivers that had eaten fruit] have been taken and none of themshowed any elevated alcohol levels.

The alcohol level created by eating a small amount of fermented fruit or coughsyrup generally dissipated two to five minutes after consumption, he said.

Lieutenant General Vu Do Anh Dung, head of the Traffic Police Department, saiddrivers were allowed to request a second breathalyser test if they wanted toprove they hadn't been drinking.

Dung also said that under the new rule which takes effect on January 15, peoplecould supervise or film traffic police officers at work so problems related tothe settlement of traffic violations would end.

According to new regulations, car drivers will be fined 30-40 million VND (1,297-1,729USD) and have their driving licences revoked for 22-24 months if they arecaught driving under the influence of alcohol.

Motorcyclists may face a 6-8 million VND (259-346 USD) fine and have theirdriving licences revoked for 22-24 months for the same offence.

A report from the National Committee for Traffic Safety revealed that thenumber of deaths caused by traffic accidents decreased by six persons per daysince Decree 100/2019 and the Law on Alcohol Harm Prevention which bans driversfrom drinking any alcohol took effect on January 1.

Traffic police will intensify their campaign to deal with violators on the roaduntil February 14.

A study by the Viet Duc Transport Research Institute pointed out that nearly 40percent of traffic accidents in Vietnam were linked to excessive drinking.

According to the Vietnam Beer Alcohol Beverage Association, Vietnamese peopleconsumed 4 billion litres of beer in 2017. Each Vietnamese person consumed anaverage of 43 litres of alcohol per year, making the country the third-largestper capita consumer in Asia, just behind China and Japan./.VNA

A strict drink driving law has left some small businesses feeling the pinch, with many claiming customers are shunning bia hơi fearing they will fall foul of the tough new regulations.  

Normally, Thanh Nhan Hospital in Hanoi admits about 100-130 patients per day, but the number of emergency cases fell to 60-70 last week.