An estimated 4,259 babies will be born in Vietnam on New Year's Day, UNICEF said today. Vietnamese babies will account for over one per cent of the estimated 392,078 babies to be born on New Year's Day.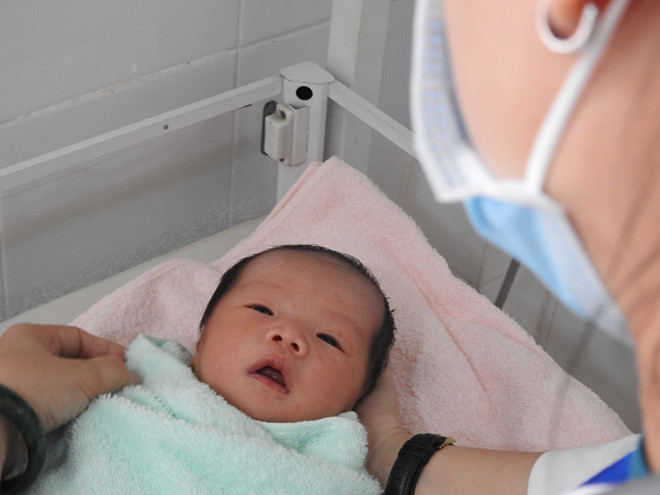 Illustrative photo
"The beginning of a new year and a new decade is an opportunity to reflect on our hopes and aspirations not only for our future, but the future of those who will come after us," said Henrietta Fore, UNICEF Executive Director.
"As the calendar flips each January, we are reminded of all the possibility and potential of each child embarking on her or his life's journey - if they are just given that chance."
Fiji in the Pacific will most likely deliver 2020's first baby. The United States, its last. Globally, over half of these births are estimated to take place in eight countries:
1. India — 67,385
2. China — 46,299
3. Nigeria — 26,039
4. Pakistan — 16,787
5. Indonesia — 13,020
6. The United States of America — 10,452
7. The Democratic Republic of Congo — 10,247
8. Ethiopia — 8,493

Each January, UNICEF celebrates babies born on New Year's Day, an auspicious day for child birth around the world.
However, for millions of newborns around the world, the day of their birth is far less auspicious.
In 2018, 2.5 million newborns died in their first month of life -- about a third of them on the first day of life. Among those children, most died from preventable causes such as premature birth, complications during delivery, and infections such as sepsis. In addition, more than 2.5 million babies are born dead each year.
Over the past three decades, the world has seen remarkable progress in child survival, cutting by more than half the number of children worldwide who die before their fifth birthday. But there has been slower progress for newborns. Babies dying in the first month accounted for 47 per cent of all deaths among children under five in 2018, up from 40 per cent in 1990.
In Vietnam, significant progress has been made over the past 25 years in improving survival rates for children under five years of age. Between 1990 and 2018, deaths per 1,000 live births reduced from 52 to 21 However, infant mortality rates in the North and Central Highlands remain high and in some provinces, such as Lai Chau and Kon Tum, the rates are three times higher than the national average.
"It is estimated that 47 newborns die every day in Viet Nam. Most are from preventable causes. Simple interventions such as skilled birth attendance, early essential newborn care, early initiation of breastfeeding, and kangaroo-mother care for premature and low weight babies can save lives of women and their infants. I would like to commend the enormous efforts made by the Ministry of Health in prioritizing and scaling up these effective interventions and would call for further investment so that those interventions could reach those in mountainous and hard-to-reach areas," said Lesley Miller, UNICEF Vietnam's Acting Representative.
UNICEF's Every Child Alive campaign calls for immediate investment in health workers with the right training, who are equipped with the right medicines to ensure each mother and newborn is cared for by a safe pair of hands to prevent and treat complications during pregnancy, delivery and birth.
"Too many mothers and newborns are not being cared for by a trained and equipped midwife or nurse, and the results are devastating," added Fore. "We can ensure that millions of babies survive their first day and live into this decade and beyond if every one of them is born into a safe pair of hands."
Q. Khuyen