Police busted many drug trafficking rings in the first quarter of 2019, seizing over 6 tonnes of drugs – higher than the amount seized last year and tripling that in 2017.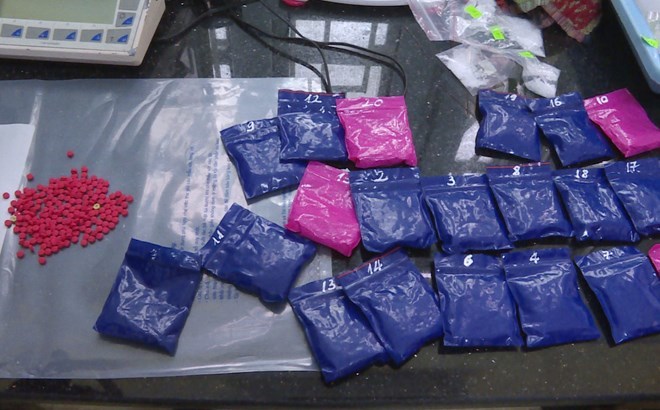 Drug pills seized from a trafficking ring busted in Hung Yen province
Statistics of the Ministry of Public Security show that 20 percent of the seized drugs was intended to be supplied to users in Vietnam.
Major cases busted include the nearly 300kg of methamphetamine seized at Cau Treo Border Gate in central Ha Tinh province in February, and 570kg of meth seized in Ho Chi Minh City in March.
In April alone, police grabbed 700kg of meth in Quynh Luu district and another 600kg in Vinh city of central Nghe An province, along with another 1.1 tonnes of meth in HCM City.
Col. Vu Van Hau, Deputy Director of the ministry's police department for drug crime investigation, said in the case uncovered in HCM City, drugs had been transported from Thailand through Laos and Cambodia to Vietnam, and they were destined for other countries.
He noted synthetic drugs from the Golden Triangle – a mountainous area on the borders of Laos, Thailand and Myanmar – are spreading to around the world, and Vietnam is located on the trafficking route.
Vietnam is keeping a good control of the domestic drug situation, Hau said, adding that it has the highest drug volume seized among countries in the region which are also ramping up the war on drugs – a fight that cannot be carried out by a single nation.-VNA