Customs and police officers in the northern city of Hai Phong have discovered 3,446 kg of ivory and 3,977 kg of pangolin scales hidden inside a container.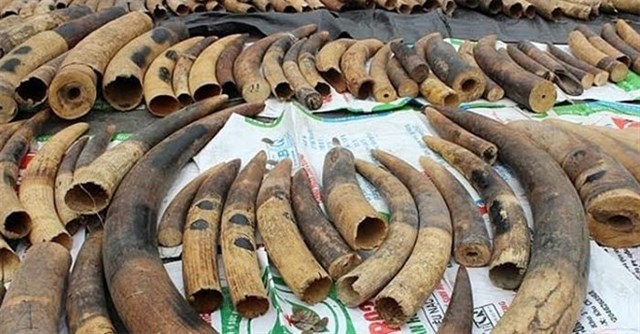 Nearly 3.5 tonnes of ivory hidden inside a container. (Photo new.zing.vn)
Senior Lieutenant Colonel Pham Van Dong, Deputy Head of the Economic Police Division under the Police Department of Hai Phong city, said police would launch a criminal investigation into the case of violations of regulations on endangered and rare animals.
The city's customs officials and police found the items in a container at Nam Hai Dinh Vu Port, which was registered as carrying asphalt with the receiver named as AB Plus Logistic Stock Company located in Hai Phong.
According to initial investigations, the container was shipped on KOTA JOHAN ship, by CMA-CMG Vietnam Joint Stock Company as the transport agent, and arrived at the Nam Hai Dinh Vu Port on April 12.
The container's sender was named Ste John Business Corporation. So far, police have not found the owner of the shipment.
Senior Lieutenant Colonel Dong said when police opened the container, there were asphalt-containing barrels, but ivory and pangolin scales were hidden inside.
In Vietnam, hunting, trading, poaching and transportation of even one pangolin carries punishment of one to five years imprisonment and a fine of between 500 million VND (21,500 USD) and 2 billion VND (86,000 USD).
The country banned the trading of elephant tusks in 1992. Trading, storing and transporting ivory is forbidden, with violators fined from 5-50 million VND or imprisoned from six months to five years.-VNS

Bui Thi Ha, vice director of Education for Nature, speaks to Vietnam News Agency about the status of ivory trafficking in Vietnam and ENV's proposed measures on fighting trafficking.

The battle against elephant tusk traffickers remains difficult as the violators are protected by corrupt officials who take bribes.

Education for Nature, Vietnam (ENV), has urged heavy sanctions on leaders of wildlife trafficking rings dealing in elephant tusks.