Massive oyster deaths in Tien Hai District, northern Thai Binh Province, in recent days have devastated local farmers.
Mass oyster deaths leave farmers broke
Masses of shellfish wash up dead in Ha Tinh Province
Vietnam strives for 4-in-1 biosphere reserves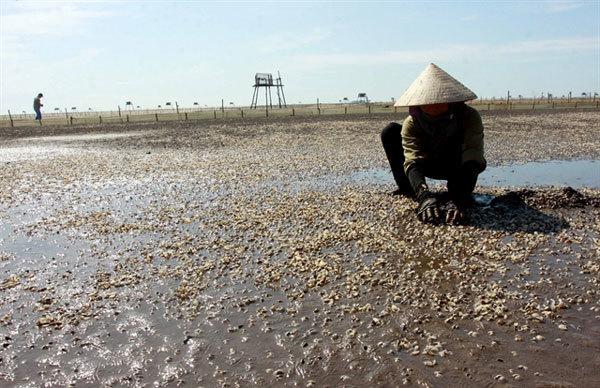 Aquaculture farmers in Dong Minh Commune, Thai Binh Province, collect dead oysters. VNA/VNS Photo The Duyet
The deaths wiped out nearly 530ha of oysters, mainly in Dong Minh and Nam Thinh communes, Tiền Phong (Vanguard) newspaper reported.
According to Tran Minh Tien, deputy chairman of Tien Hai District People's Committee, there are 1,900ha of oysters raised across aqua farms at Tien Hai District, of which 1,500ha are in the two communes, he said.
The dead oysters, mostly baby oysters, have been spotted since August 7.
Dinh Huu Dinh, a farmer in Dong Minh Commune, said his family has 2ha of oyster and nearly 70 per cent of them had died already, losing nearly VND1 billion (US$42,500).
"We lost a lot, but we still have to hire people to collect dead oysters to protect the remaining oysters," he said.
"And it is not easy to find farmers to collect dead oysters because this work must be done at night with the huge amount of dead oysters," said Dinh. Many farmers in Dong Minh Commune said they could lose billions of dong.
The provincial fisheries sub-department has taken samples of dead oysters for test to find the cause of death, said Pham Van Vang, head of Tien Hai District's Agriculture Office.
According to him, oysters could have died due to hot weather and not necessarily due to pollution.
The number of deaths increases every day because households can't collect the dead oysters quickly enough to avoid polluting breeding areas.
The sub-department said households should remove all dead oysters from breeding areas as fast as possible to save the remaining and prepare for the next crop.
VNS