A social security package worth $1.1 billion has been approved by the government to support workers and employers facing difficulties due to the impact of the pandemic.
Compared to the first support package worth $2.7 billion issued in last April, the second one boldly expands beneficiaries and adds many new policies.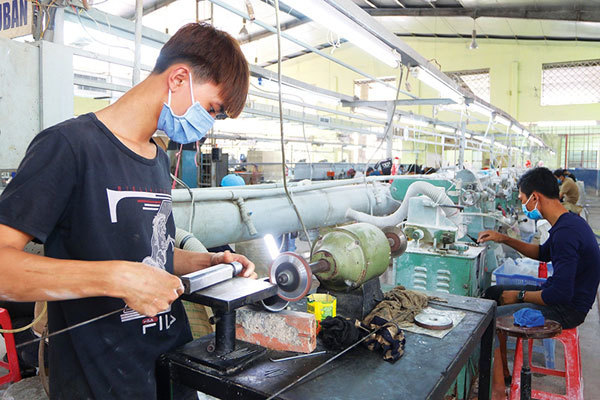 Packages look to end of pandemic struggle. Illustration photo
Until December 31, employees who suspend their labour contracts or take unpaid leave from work for 15 consecutive days or more will be supported with VND1.8 million ($78) each. Employees who take unpaid leave or have their contracts suspended for one month or more are supported with VND3.7 million ($160).
Those pregnant and raising children are also supported with an additional VND1 million ($44) per person. The policy also supports meals worth VND80,000 ($3.50) per person per day or workers infected with COVID-19 and in medical isolation. Children will be supported with an additional VND1 million ($44).
To support business households and enterprises, many procedures have been cut. Business households affected by COVID-19 only need to submit an application for support which will be processed within a maximum of 10 days.
Businesses that borrow money to pay salaries can also be supported by the Vietnam Bank for Social Policies with a zero per cent interest rate and do not have to apply loan security measures. The maximum loan amount is equal to the regional minimum wage, with a loan term of less than 12 months. The policy aims to help businesses acquire more capital to pay wages and spend more resources to restore production and business.
Dao Ngoc Dung, Minister of Labour, Invalids, and Social Affairs (MoLISA), said that the policy will be implemented expeditiously but ensures legal provisions, and is based on the experience gained from the implementation of the first support package. The previous package had strict criteria and many procedures. This support package will shorten the time to only four days for processing and three days for disbursement, which means that within seven days, employees can receive their money.
According to the MoLISA, freelancers are the most vulnerable group and were hit the hardest by the pandemic. Commonly, they do not have enough savings and do not find enough jobs to make a living during this time, so they easily fall into poverty in the context of the complicated pandemic. "Therefore, the new policy also emphasises to support self-employed people. "Freelance workers will receive support at their place of self-employment and do not need to ask for confirmation from local authorities," said Dung.
The government's Resolution No.68/NQ-CP/2021 dated July 1, 2021 on certain policies to support employees and employers in difficulty due to COVID-19 stipulates that self-employed workers will receive an amount not lower than VND1.5 million ($65) per person or VND50,000 ($2) per day based on the actual number of days of suspension according to local requirements.
While other target groups are waiting for their applications to be reviewed, in Ho Chi Minh City, thousands of self-employed workers have started to receive support from the package. Ho Chi Minh City is currently the new pandemic epicentre in Vietnam. However, the city was also the first locality to quickly implement support activities for employees.
Le Minh Tan, director of Ho Chi Minh City Department of Labour, Invalids and Social Affairs, said that initially, about 230,000 freelance workers will receive support, including permanent residents.
In addition to the government's support package, Ho Chi Minh City also implemented a separate support package worth VND886 billion ($38.5 million) for workers, freelancers, business households, and traders at traditional markets.
In Hanoi, a representative of Hanoi Department of Labour, Invalids, and Social Affairs said workers without a labour contract who temporarily suspended operations like selling iced tea and other roadside services will be supported by the package. Between April 2020 and May 2021, Hanoi supported 515,500 people with an amount of over VND608 billion ($26 million).

Tran Thi Thanh Ha - Labour Relations Department, Vietnam General Confederation of Labour
In the current pandemic, it is certain that employees will continue to face difficulties, especially those in sectors that have been deeply affected such as tourism, transportation, aviation, and freelancing.
Therefore, Resolution 68 with its 12 policies to support employees and employers was promptly issued to support the people.
With the principle of ensuring timely support for the right people and businesses, I believe this policy will contribute to stabilising social security and empower employees to achieve the dual goals of disease prevention and economic development.
Compared with many other countries, Vietnam's social security support package is not inferior in coverage. But in fact, there is always a gap from policy to implementation, so it is impossible to ignore cases where businesses and workers, especially freelancers, have difficulties in accessing the packages.
In my opinion, the people's committees of the provinces and cities need to identify the beneficiaries who are in need of support to issue appropriate policies from the local budget and other legal sources.
Along with that, the government needs to have specific guiding documents and reduce cumbersome procedures and overly strict criteria. Simplified procedures will help people and businesses access support as soon as possible.
For this support package, the Vietnam General Confederation of Labour has the role of coordinating and monitoring the implementation.
André Gama - Social Protection Programme manager, ILO Vietnam
The ILO believes that the government is moving in the right direction with its support package.
Resolution 68 is an important step towards expanding the coverage and effectiveness of relief packages by including new categories of workers among beneficiaries and lowering administrative burdens imposed.
Navigating these troubled waters can present important opportunities. Many governments across the world are currently opening windows for informal workers to join social insurance, providing them with contribution exemptions and access to specific COVID-19 support programmes.
Such an initiative in Vietnam could compliment ongoing efforts to reach the social insurance coverage targets set out by Resolution No. 28-NQ/TW in 2018, promoting universal social insurance.
Furthermore, Vietnam should take this opportunity to reflect on the strengthening of its social protection system to better cope with the challenges of tomorrow. Making the social protection system more shock responsive could go a long way towards guaranteeing that supporting the most affected is not such a challenge during future crises.
The ILO remains open and ready to support Vietnam to mitigate the negative effects of the pandemic.
We urge the people of Vietnam to look at economic packages as an investment, as a bridge over troubled waters, which will help stabilise the economy, keep families away from poverty, and help the country bounce back faster and better from this time.
Source: VIR

The Ministry of Labour, War Invalids and Social Affairs (MOLISA) is collecting opinions from ministries and agencies to complete a draft resolution on policies to support labourers and businesses impacted by the COVID-19 pandemic.

It is estimated that hundreds of thousands of people in Hanoi are eligible to receive support from the Covid-19 relief package described in Resolution 68.