Due to their variety of options, parents have not been able to find quality reference books for their children for school use.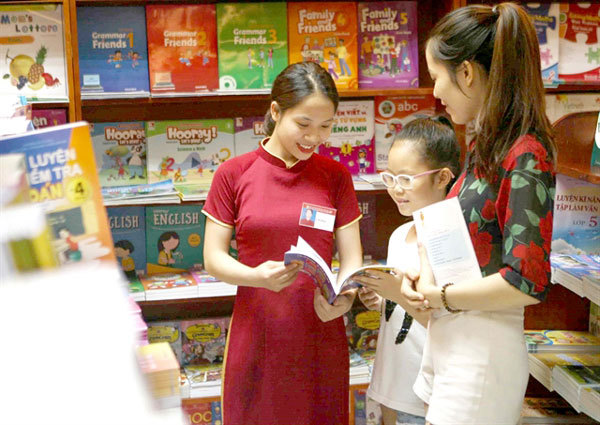 HELPING HAND: A student and her mother (right) talk to a shop assistant at Vietnam Education Publishing House to find reference books for the new school year.
A parent of an 8th grader at Nguyen Du Secondary School in HCM City's District 1 said that a physics teacher required a book called 8th Grade Physics Teaching Material, published by the HCM City Education Department and Vietnam Education Publishing House.
The book will be used as a substitute for the textbook. The parent visited the bookstore and found that it was part of a four-book collection, used for students between grades 6 and 9. Each book costs VND45,000 to 58,000.
Another parent with a 6th-grade child in Go Vap District also experienced the same problem. Her child's English teacher asked for a reference book called English Exercises by authors Mai Lan Huong and Nguyen Thanh Loan.
She purchased both because the book has two editions, one with only questions priced at VND36,000, and the other with both questions and answers priced at VND48,000.
Many reference books are sold at some Fahasa and Phương Nam bookstores. Each subject for each grade has five to 10 reference books for parents to consider.
Phuong Nam bookstores have more than 12 literature titles for 8th graders to choose from, eight of which are compiled by the same author.
Depending on the publishing house, the same book will be available under different titles.
Even for the first grade, parents can find many reference books such as 500 Selective Math Exercises, Collection of Math Problems and Strengthening Math Skills, among other titles.
From grade 2 onwards, the best-selling reference books have problem-solving exercises.
Since reference book prices are not listed publicly as are textbooks, this has created a lucrative market for fake books with bad printing and unoriginal content, according to bookstore staff. It is important for parents to be aware of this and only purchase books at trusted bookstores.
In response to a Sài Gòn Giải Phóng (Liberated Sài Gòn) newspaper article, officials of the Secondary Education Department said that more supporting materials such as reference books were needed.
"It is the teachers' job to help students read quality supplementary materials that are based on the standards of official textbooks," they said.
"The fact that teachers use certain teaching materials in place of textbooks is in conflict with education regulations, causing financial waste for parents.
"The school should develop a shared library with easy access for both students and teachers."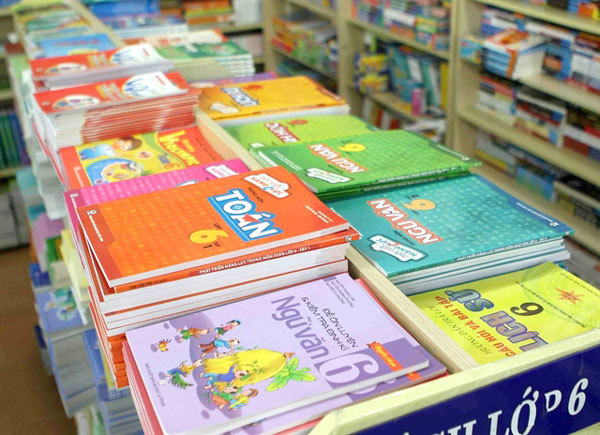 CONFUSING: Due to the variety of options, parents are unable to find quality reference books for their children to use at school. VNA/ VNS Photos Thanh Tung

The Ministry of Education and Training allows teachers to devise their own teaching curriculum, based on official materials provided by relevant authorities. However, teachers are supposed to inform parents beforehand.
According to a representative of the Vietnam Education Publishing House in HCM City, the current Publishing Law does not require an author to sign an exclusive contract with any publisher, except for textbooks that are considered "a special item with high universality".
As there are many publishers in the market, book titles have become more diverse.
He added that the quality of any book was mostly based on its author's reputation or implicit agreements between publishers.
Parents should carefully evaluate their reference book choices before making any purchases, experts said. VNS