Parents have complained that the new curriculum for first graders is 'unreasonable', while others think it is better than the previous one.
2020-2021 is the first academic year in which Vietnamese students are following the new general education program and studying with new textbooks.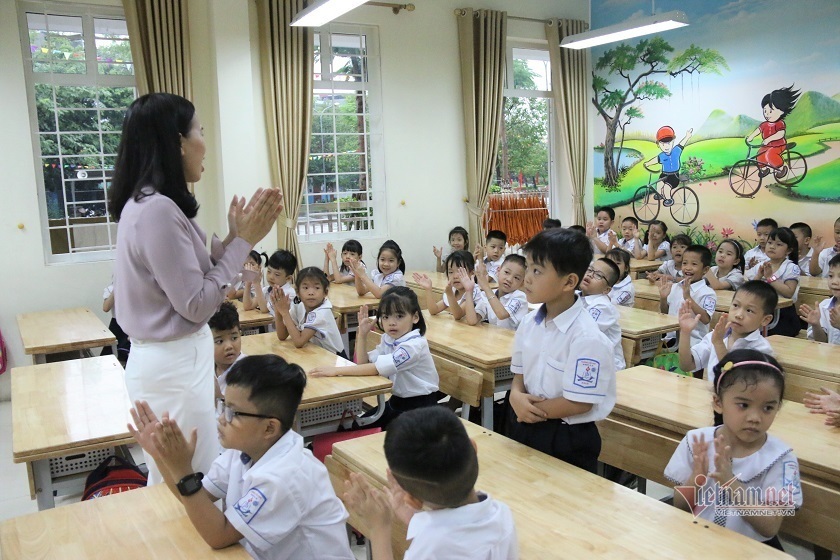 Asked about her daily schedule, Thuy Loan, a parent in district 1, HCM City, said she takes her son to school in the morning and picks him up in the afternoon. He has dinner, reads books, watches TV or goes to English and painting extra classes before going to bed.
"First graders leave their books at the school and they don't have to do home exercises. I don't know what to teach and ask him to do in the evening," Loan said.
All students at the school use Chan Troi Sang Tao (Creative Horizon) textbooks.
Loan is worried because her son has admitted that he writes more slowly than his friends and she regrets not sending him to preparation classes before he enters the first grade. "I will have to ask him to practice writing at home as well, or I will have to hire a private tutor," she said.
Nhu Mai, whose daughter goes to a primary school in district 3, is worried about the new curriculum.
"When comparing the textbooks of my daughter with the textbooks of her elder brother, who was in first grade five years ago, I realized that the new curriculum is quite heavy," she said.
"There are too many things students have to learn within one learning period. I am afraid that it will be unbearable for students," Mai said.
"I am sure the new curriculum is much more difficult than the previous one. My husband and I have to tutor my daughter in the evening, though teachers don't require her to do home exercises," Mai said.
A parent whose daughter is a student at Nguyen Binh Khiem Primary School said that the lessons of the new curriculum 'go very fast', but she is not feel worried because her daughter practiced reading and writing beforehand.
Meanwhile, Thu Hai said her daughter, a first grader at Nguyen Tri Phuong Primary School in Hanoi, is happy going to school.
Hai said that her daughter did not go to any preparation classes. The girl has to spend 1-2 hours every evening to practice reading and writing. It takes only 20 minutes to fulfill their school works. She doesn't feel pressure.
Pham Thuy Ha from the District 4 education sub-department said ther was no need to worry about the new cirriculum.
At first, some teachers were concerned that they had to teach four syllabi within one period. However, they later realized that the problem is not in teaching 2, 3 or four syllabi, but in the teaching method. 
Ngan An

The new 2020-2021 academic year began one week ago, but many parents in HCM City and Dong Nai province complain that they still cannot buy textbooks for their children.

The HCMC Department of Education and Training has announced that textbook set "Inventive horizon" compiled by the Vietnam Education Publishing House was chosen to be official textbooks for first graders in the academic year 2020-2021.