Vietnam Airlines has announced to provide Wifi on some of its flights using Airbus A350 aircraft from October 10.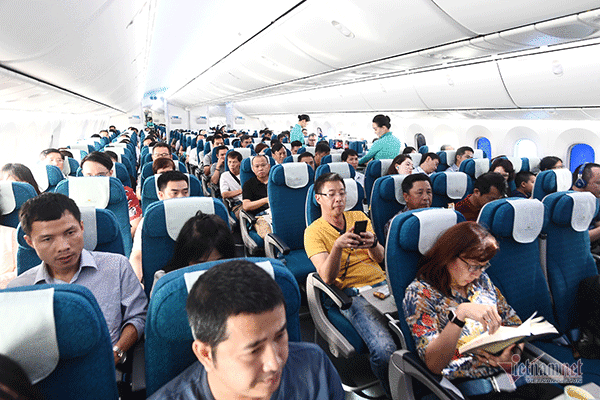 Passengers on a flight of Vietnam Airlines
The service will be first used for four Airbus A350 aircraft with the code ranging from VN-A 886 to VN-A 889.
The flight to South Korea on October 10 will be the first to have Wifi.
Wifi will be turned on when the flight is at the height of 10,000 metres and will be turned off before landing.
Passengers will be given with Wifi password after the payment which can be made through credit card or cash.
However, the internet speed depends on the number of users. In some cases, it would be slow if there are too many users.
The Wi-fi fees would be from US$8-10, based on whether passengers want to text, email or surf the web.
Passengers can pay for the service by purchasing Vietnam Airlines vouchers or credit cards. The number of users will be limited to not affect the Internet speed.
In the coming time, Vietnam Airlines plans to expand the service on all of its flights using Airbus A350 as well as on its Boeing A 321.
The Wifi system was included in Vietnam's order for the four mentioned-above Airbus A350 aircraft in 2015. But, it took the airline quite a long time to select internet service providers as well as complete technical requirements.
Nguyen Nam Tien, vice head of Vietnam Airlines Department of Technology, said that the carrier has to collect fee to cover its pay for Vinasat satellite connection service.
"In the US and Canada, passengers can use the service free because aircrafts used land-based Internet technology. It will take a few years more for Vietnam to apply this technology," Tien said.
Vu Diep

Phan Xuan Duc, former deputy general director of the national flag carrier Vietnam Airlines, has been named chief executive officer of Vinpearl Air, which was recently established by Vingroup.  

Vietnam Airlines has put the industry's most efficient twin-aisle aircraft, the Boeing 787-10 Dreamliner, into service on the Hanoi-Ho Chi Minh City route