Many pepper farmers in the southern province of Binh Phuoc have switched to other crops to improve their income amid declining pepper prices and disease outbreaks.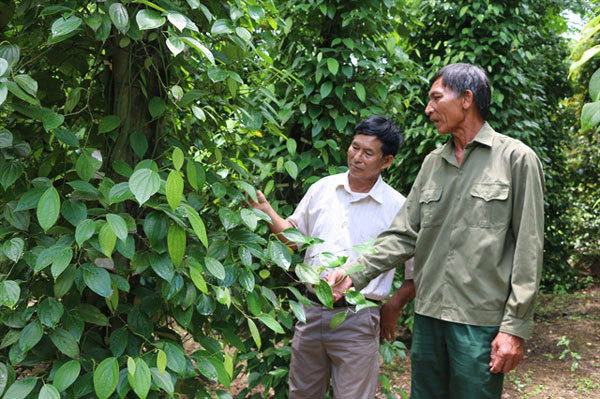 A pepper orchard in Binh Phuoc Province's Bu Dop District. Many pepper orchards this year have produced less fruit because of inclement weather and diseases. – VNA/VNS Photo
Binh Phuoc Province is one of the country's largest producers of pepper, which is a key product for the province.
Farmer Nguyen Ngoc Tien in Bu Dop District's Thien Hung Commune planted cashew and pepper before switching to coconut in his 2ha orchard.
Coconuts require low costs as farmers only need to buy seedlings and tend to them. The cost of fertiliser and pesticide for coconut farming is much lower than for other crops, according to Tien.
Tien harvests about 70-150 coconuts (used for juice) each day and earns about VND1 million (US$43).
"Coconuts offer a stable and year-round income," he said.
Besides coconuts, many farmers in Thien Hung have switched to sweet mandarin, green-skin and pink-flesh grapefruit and Tonkin creeper flower, a type of flower used for cooking.
Phan Dinh Thoai, chairman of the Thien Hung Farmers Association, said that coconuts had brought stable incomes to farmers.
Diseases have affected many pepper orchards, destroying many plants. As a result, many pepper farmers have bred animals in their pepper orchards or intercropped with other crops.
Nguyen Van Duc, whose pepper orchard in Bu Gia Map District died en mass early this year from disease, has earned a good income from breeding 20 goats in his orchard where acacia trees are used as pillars to grow pepper plants.
The acacia trees remain and grow well after the pepper plants die, he said. "I use acacia leaves to feed the goats."
Local authorities have also provided farmers with seedlings of other crops and fertiliser.
In Loc Ninh District, for instance, the district's People's Committee has provided corn seeds and fertiliser to 22 poor households in Loc Khanh Commune whose pepper plants died because of disease outbreaks.
Under the province's plan to restructure agriculture launched five years ago, the province targeted 14,500ha of pepper in 2020, but its pepper farming area grew to about 17,000ha.
More pepper was planted because of the high price of pepper in recent years, according to the province's Department of Agriculture and Rural Development.
However, disease outbreaks and declining prices have led to a reduction in pepper planting compared to last year.
The province's People's Committee has asked local authorities to review the pepper farming areas, especially areas that are not suitable to pepper cultivation. It has told farmers to convert 2,000ha of dead pepper plants to high-value crops.

Price reductions, stiff competition and technical barriers are pushing the Vietnamese pepper industry against the wall.

Pepper prices have been rapidly falling due to the global oversupply, causing Vietnamese growers to face massive losses.

Experts have said Vietnam's pepper industry had better change its growth model and enhance quality to take advantage of free trade agreements (FTAs).  
VNS