Teacher Ngo Van Thieu collects lollipop sticks, old electrical wires, bottle caps, used straws and other discarded materials to make models that demonstrate scientific theories in his physics classes.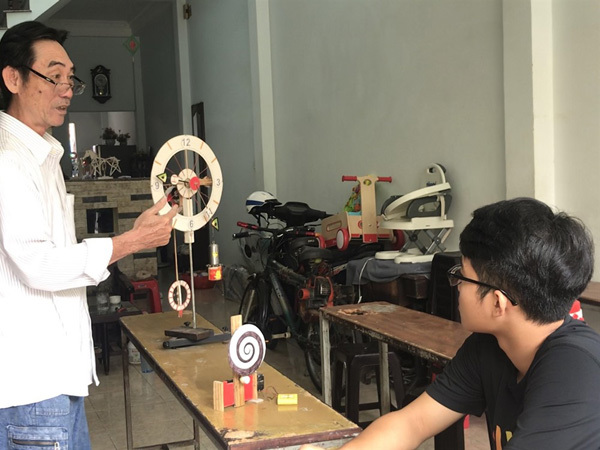 Ngo Van Thieu, a physics teacher, uses his model of a pendulum clock made from homemade pulleys and cardboard to explain the theory of pendulum motion to his students. – VNS Photo Xuan Dang
The teacher fell in love with physics when he was a student at Nguyen Huu Huan High School, where he returned to teach after graduating from university 35 years ago.
"I liked how mathematics was used in physics to analyse and explain phenomena in nature," he said.
After he began teaching, Thieu noticed on the internet that "people in foreign countries have good conditions and facilities to make creative models. But in our country, not many people have the same conditions and facilities".
"So, that's how I came up with an idea to collect discarded materials to create models that could demonstrate theories in physics. The models inspire students to explore and study this subject," he said.
Thieu has used homemade pulleys and cardboard to make a pendulum clock; a lawn mower to power a bicycle; cardboard and ice cream sticks for a machine that demonstrates leverage theory by shooting marbles; and a mirror to explain animation theory through refraction.
"I used to be a student, so I understand that theories in textbooks are too academic and don't interest students, so that's why I wanted to make models with discarded materials so that any student could make them. This will help them become more interested in the subject."
"If more expensive materials are used, it may be unfair for some students who are passionate about the subject but don't have enough money."
Thieu collects materials from the school playground, flea markets and other sources where he finds discarded items.
"I collect lollipop and ice cream sticks, and bottle caps at school playgrounds, or ask for used electrical motors and electrical wires at auto repair shops," he said.
Thanks to the models, he can easily teach students theories about optical, mechanical and electrical effects.
His other aim is to show students that the knowledge they learn at school can be applied to a number of fields.
His student, Pham Ngoc Thach, said the models he made had helped him understand lessons on pendulum and oscillation theories.
Another student, Tran Anh Minh, said: "Because our teacher uses the models in class, I find that the lessons from the textbooks are easier to grasp, and they help me see the practical aspect more clearly."
Thieu said: "The press says that I am an environmentalist, but I don't think I'm that great. I just want my students to be successful in the future. That is why I made these models."
As the head teacher of physics at the high school, he has worked with other teachers to organise many creativity contests for students.
"There is no greater happiness for a teacher than to watch students passionately discuss a solution and have passion about learning. It also motivates me to keep trying, and to do more for them," Thieu said.
"I also receive a lot of support from my family and other teachers at the school, which motivates me to continue the work," he added.
In March next year, Thieu will reach retirement age. However, he plans to continue to work with the school's managing board to organise creativity contests and give instructions to students on how to make models and robots.VNS
Xuan Dang