Bach Dinh Ke, 37, alleged mastermind behind the pine forest poisoning in Tan Thanh Commune in the Central Highlands province of Lam Dong, has been arrested, Youth newspaper reported.
Three arrested for poisoning pine forests in Lam Dong province
Hectares of pines poisoned in Lam Dong farmland grab
Hundreds of pine trees poisoned in Lam Dong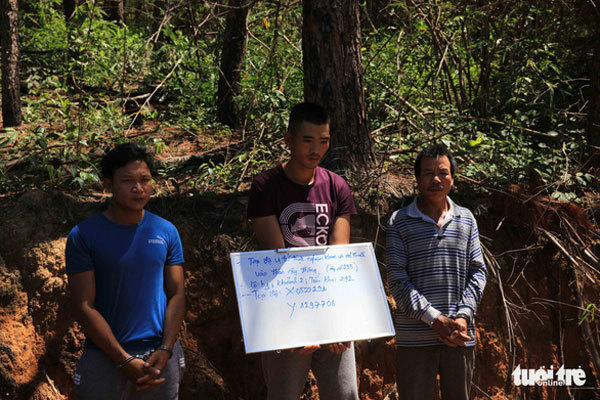 The three suspects who collaborated with Ke to destroy the forest were arrested. – Photo tuoitre.vn
On Sunday, Lam Dong Province Police announced that they arrested Ke, who was charged with poisoning some 3,500 pine trees.
According to initial findings, after committing the crime, he fled to Gia Lai Province then Laos.
The provincial police reported to the Ministry of Public Security to collaborate with Lao law enforcement agencies to arrest the culprit.
Previously, police caught other suspects including Ngo Van Diem, Nguyen Van Loi and Duong Van Hong.
Ke hired Diem to destroy the forest, after that, Diem tasked Hong, Loi and other people, now on the run, to poison the pine trees.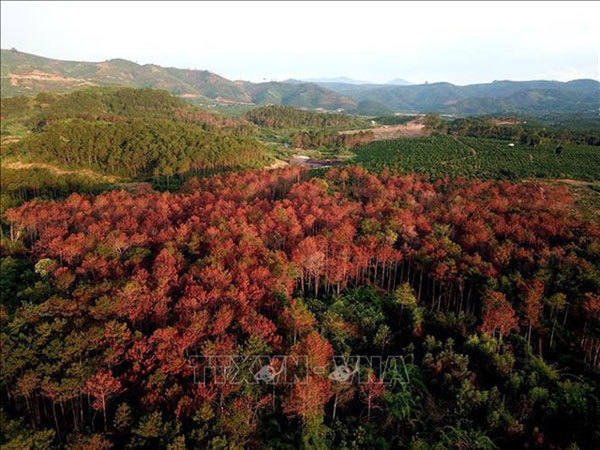 The dying forest turns red. – VNA/VNS Photo Quoc Hung, Dang Tuan

In early May, thousands of almost 20-year-old pine trees covering 10ha in the district had been poisoned, turning the entire area red.
The trees were axed or drilled and then filled with herbicide.
The deforestation was an attempt to encroach on land as land prices in Lam Ha District are soaring.
On May 8, Prime Minister Nguyen Xuan Phuc ordered the Ministry of Public Security to launch an investigation into the case.
VNS