Nguyen Xuan Cuong, Minister of Agriculture and Rural Areas talks on his resolve to support pig farmers following the African swine fever crisis.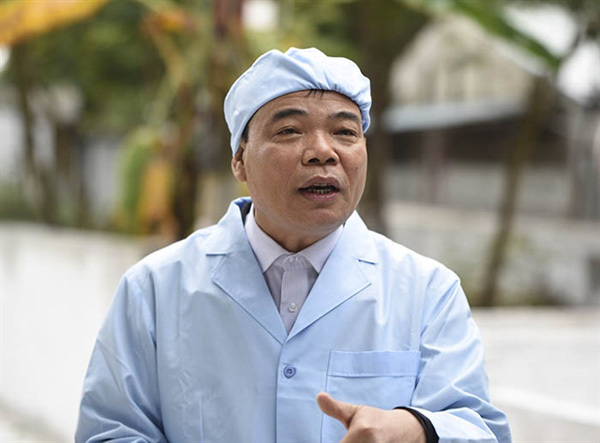 Nguyen Xuan Cuong. —Photo danviet.vn
What has Vietnam been doing to ensure there will be no shortage of pork during the upcoming Tet (Lunar New Year) in late January?
In early 2019 Vietnam was hit by African swine fever. In the fight against African swine fever, Vietnam learned four important lessons.
First, we learned that we needed a thorough concept of food security in agriculture. African swine fever has affected about 9 per cent of our pork production. Yet, its impacts are very serious.
In 2019 we had to destroy 6 million pigs infected with African swine fever, equivalent to some 340,000 tonnes of pork.
The people who were hardest hit were small household farmers.
Luckily, by now the outbreak has almost ended. During the peak time of the pandemic in May, almost 1.3 million pigs were destroyed. Yet, luckily in November only some 40,000 pigs were destroyed. The good news is that up to 80 per cent of communes have declared the pandemic completely eliminated.
Second, though Vietnam was hit by African swine fever, we were still able to keep some 109,000 parent pigs for future reproduction. We have a total of 2.7 million swine – a good source for us to multiply the number of pigs in the future.
Third, the eco-systems for pig raising nationwide have been mostly well protected.
And the last lesson is the need to raise awareness among farmers about the need to practise bio-security in pig raising, including giving vaccine injections for the piglets.
From last October till now, many provinces have reported no cases of African swine fever in their localities. If things go smoothly, by February and March, everything will return to normal in the pig raising industry.
Does the Ministry of Agriculture and Rural Development have any plans to help pig farmers restore their production?
We have already recommended small households who are raising pigs to switch to raising big animals such as cows or buffaloes or others. This is a good lesson that we have learned from previous pig pandemics. We should only provide conditions for farmers to continue their pig raising when the issue of bio-security is ensured.
Many people have expressed anxiety about the hike in pork prices ahead of Tet. Do you have any advice for them?
As the commander-in-chief of the agriculture industry, I declare that there will be no shortage of food, including meat or other items for the upcoming Lunar New Year. Due to the recent pig pandemic, we still face the problem of pork shortage. Luckily, some big pig farms have told me they will increase their pork supply to the market at an acceptable price to stabilise the market price. This is good news for us, particularly for consumers. — VNS

Local pig farmers desperately wanted to recover their pig herds amid the pig undersupply and price upsurge on the local market, but existing conditions are not favorable for the effort.  

HCMC needs a pork and pig exchange floor where safe pork can be traded and the prices of pork and live pigs can be stabilized, benefiting both customers and pork suppliers and traders.