Prime Minister Pham Minh Chinh has asked AstraZeneca to create the best possible conditions to deliver 10 million doses of the COVID-19 vaccine by the beginning of August, out of its 31-million-dose order for 2021.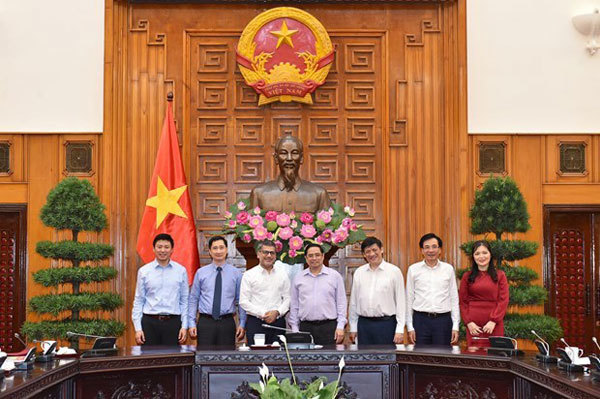 Prime Minister Pham Minh Chinh (centre), Nitin Kapoor (third, left), and other participants in the meeting on June 29. VNA/VNS Photo
PM Chinh met with Nitin Kapoor, President for Asia Area Frontier Markets at AstraZeneca and Chairman and General Director of AstraZeneca Vietnam, in Hanoi on Tuesday to discuss bringing as many COVID-19 vaccines as possible to Vietnam at the earliest time. Participants at the meeting, which included Minister of Health Nguyen Thanh Long and Vietnam Vaccine Company (VNVC), also talked about co-ordination and support in research, production and approval of homemade vaccines.
Apart from the 10 million doses, PM Chinh also suggested that AstraZeneca closely coordinate and support the domestic production of vaccines and reduce the price of vaccines for Vietnam.
Nitin Kapoor highly appreciated the efforts of the Vietnamese Government in implementing the vaccine strategy for people's health and socio-economic development with many positive results. He lauded the drastic and consistent efforts of the Government and the Prime Minister in persistently implementing the "dual goals" with the spirit of "fighting the pandemic like fighting the enemy", and in aggressively launching the national vaccine strategy.
Nitin Kapoor said that at this time around the world, COVID-19 supply is very scarce due to the great demand because the disease outbreaks remain complicated and unpredictable, while production capacity is still limited.
He promised to report to AstraZeneca to prioritise and try to transfer at least eight million doses of vaccine in July and early August 2021. Nitin also committed to report to the competent authorities of AstraZeneca to offer the best possible discount on vaccine price for Vietnam.
He also said that AstraZeneca will support Vietnam to produce vaccines in the country, increase investment in outsourcing and production of necessary drugs in the country such as for cancer, cardiovascular and intestinal diseases and some types of children's medicine, while also promoting support programmes for the health sector in Vietnam.
Source: Vietnam News

Vietnam expects to have 3 million doses of AstraZeneca vaccine and 3 million doses of Pfizer vaccine from now to September.

Vietnam has completed negotiations with at least four pharmaceutical companies to buy more than 120 million doses of Covid-19 vaccine this year, the Ministry of Health has announced.