Major fuel trader Trinh Suong, chairman and director of My Hung Co., Ltd, in the Mekong Delta province of Soc Trang, is being held in police custody for allegedly producing and trading fake fuel products.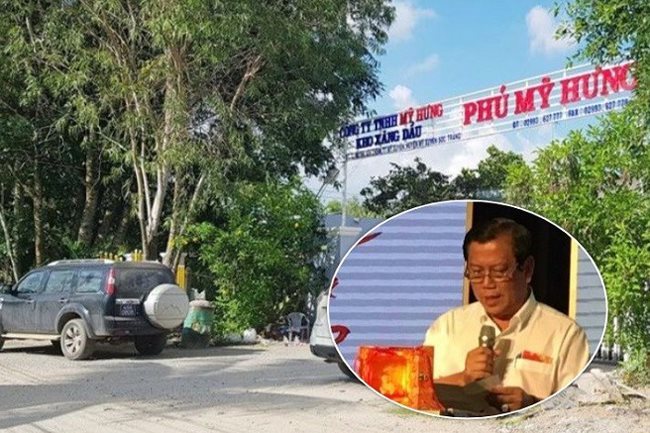 A car is parked in front of Phu My Hung fuel depot, one of tycoon Trinh Suong's five major fuel storage facilities, in My Xuyen Town of Soc Trang Province – PHOTO: VIETNAM FINANCE
A leader of the Police Department in the Central Highlands province of Dak Nong told Tuoi Tre newspaper that they are holding the 50-year-old Suong in custody to probe the production and trade of fake fuel products in the province. The agency has yet to press charges.
The Dak Nong police department on Monday charged Suong's company with performing these illicit acts, following a raid on one of its key fuel depots in My Xuyen Town, Soc Trang Province, between May 30 and June 2.
Prior to the Lunar New Year, or Tet holiday this year, a car was found to have burned because of its use of gasoline from a gas station in Gia Nghia, the capital town of Dak Nong.
At the time, the station had stored 10 cubic meters of the fake gasoline, sold to them by the fuel businessman's company.
Investigators later discovered two other stations trading the fake fuel in the outlying districts of Dak Song and Dak R'lap.
The Dak Nong police set up a special task force and reported the case to the Ministry of Public Security, which then ordered the local police to coordinate with the Investigative Police Department for Corruption, Smuggling and Economic Crimes to look into the fuel ring.
The source told the newspaper that the provincial police had brought legal proceedings against nine individuals in the first phase of the case. They are currently carrying out the second phase of the investigation.
Founded in 1996, My Hung Co., Ltd, has revised its business license 18 times, with the latest raising its charter capital of VND60 billion (US$2.5 million). The company has ties with four banks, and its outstanding loans with them total more than VND568 billion.
Trinh Suong owns scores of gas stations on the National Highway 1 and other highways throughout the Mekong Delta. He is also the founder of another fuel company – Gia Thanh Co., Ltd, established in 2007 – in Soc Trang Province.
In mid-2015, this company was ordered to pay a fine of only VND50 million (US$2,100) since it was found to have purchased two million liters of A92 gasoline worth over VND40 billion (US$1.7 million) from a HCMC-based company beyond its distribution system, in violation of prevailing regulations.
Suong also owns many properties at prime sites in Soc Trang Province and is known for his charity work, which donates ambulances to local hospitals. SGT