Police in central Ha Tinh Province are looking into an oil leak on the Lam River, which has caused serious pollution. An investigation is underway to find the culprit behind the incident.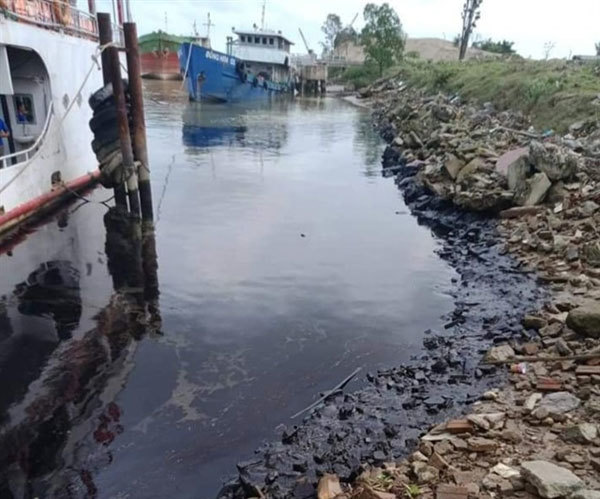 Oil is seen along the bank of the Lam River in Xuan Giang Commune, Nghi Xuan District in central Ha Tinh Province. — Photo dantri.com.vn
On Monday morning (March 2), residents in Hong Nhat Village, Xuan Giang Commune in Nghi Xuan District found oil floating on the water of the Lam River, causing a strong smell of fuel and polluting the riverbanks.
Residents reported the incident to authorised agencies.
Le Huu Phong, deputy head of the Nghi Xuan District's Office for Natural Resources and Environment, said the oil leak was found to cover an area of about 30 metres along the riverbank.
Rescue services were mobilised to the scene. More than 25 litres of oil was collected.
There was no information as to the type of oil or how it got into the river.
The unit has worked with functional forces to take samples for testing. — VNS

Authorities in the central province of Ha Tinh are co-operating with the owner of a Thai sunken cargo ship to recover nearly 180 tonnes of oil from the ship.

Vietnam grappled with nearly 4,000 disasters and incidents in 2019, an increase of 57.9 per cent compared to the previous year.