Captain Le Thi Hien of the Dong Da District Police in Hanoi City, who insulted a Vietnam Airlines counter employee and physically and verbally assaulted a security guard in August this year, has been removed from the Communist Party.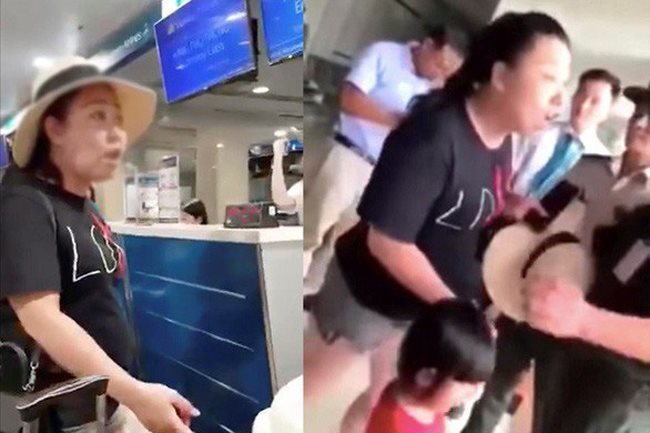 Stills from video footage feature Hanoi policewoman Le Thi Hien at the Tan Son Nhat International Airport in HCMC on August 11
"As Captain Hien belongs to the Party unit of the Dong Da District Police, (the division) has decided to take disciplinary action by expelling her from the Party," stated Dao Thanh Hai, deputy director of the Hanoi Police Department, on the sidelines of a National Assembly session today, November 15.
Hai was quoted by Tuoi Tre newspaper as saying that the district police division had asked him to demote the 36-year-old traffic police officer from captain to junior lieutenant. Further steps will be taken in line with police regulations.
The captain, as seen in a video clip, used abusive language while scolding everyone from check-in counter staff to security personnel at the HCMC-based Tan Son Nhat International Airport.
According to the Southern Airports Authority, the incident occurred on August 11 when Hien, who was seen traveling with her young daughter, was checking in for a Vietnam Airlines flight from HCMC to Hanoi.
Hien wanted to check five bags but was asked to take back one as a carry-on since she had already checked the maximum of four pieces free of charge. Failing to get her way, Hien started yelling at and insulting the airline staff.
A security guard told the local media that Hien later agreed to board with one carry-on and went through security screening. However, on discovering that she had lost her boarding pass, Hien returned to the check-in counter and resumed yelling at airline employees.
This prompted a Vietnam Airlines representative to prevent her from boarding, due to concerns about public security and safety.
The policewoman continued to create a disturbance and assaulted security officers when she was asked to visit the Southern Airports Authority's airport office to address the issue.
However, she was only fined VND200,000 (US$8.7) for causing the disruption. This lenient fine has since sparked public anger.
Later, the Civil Aviation Administration of Vietnam imposed a flight ban on her until late August 2020 for disturbing order at the airport.
The district's police leadership also suspended her from duty for one month for displaying behavior that violated the public etiquette expected of the People's Police. She has since returned to work but has been dispatched to a division that does not have direct contact with the general public. SGT

A narcotics officer in Hanoi has been accused of taking a VND1 billion (US$43,500) bribe to entrap a man by planting drugs in his car.

As the reality show "Beauty in Action" climbs to a leading position in Vietnam's reality TV scene, its scriptwriter – Lt Col Duong Van Toan from the Ministry of Public Security of Viet Nam – speaks to Nhân Dân Cuối Tuần