The Ministry of Public Security has asked the Supreme People's Procuracy of Vietnam to prosecute six people for illegally helping Vietnamese citizens to flee to Europe.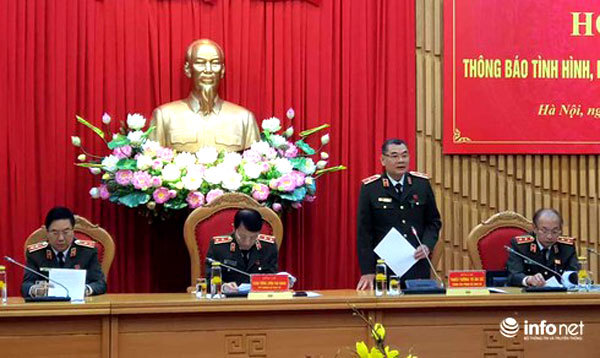 An official from the Ministry of Public Security at a press conference on Tuesday. — Photo infonet.vn
The announcement was made at a press conference held by the ministry on Tuesday afternoon in Hanoi.
The ministry said it had finished investigation into the case, which involved Dong Guo Li and accomplices illegally organising Vietnamese citizens to reach Europe.
According to the ministry's investigation, Dong Guo Li, from China, and his accomplices had illegally organised for 22 Vietnamese people to flee abroad at a cost of US$17,000-40,000 each between April and July 2018.
The cost depended on the destination country.
Dong Guo Li and his accomplices would take Vietnamese people to countries in ASEAN using authentic passports, and then used fake Chinese passports so they could enter countries such as Bosnia and Sri Lanka, before illegally reaching European countries.
Dong Guo Li and two Malaysian nationals – Wong Chong Hiong and Ooi Gee Yik – had gone to Vietnam, co-operating with three Vietnamese accomplices to teach the migrants Chinese for their journey to Europe.
Major General Ly Anh Dung, head of the ministry's Security Investigation Agency, said at the press conference there is no evidence linking this ring to the 39 Vietnamese victims who died in the United Kingdom earlier this year.—VNS

Vietnam and the United Kingdom were "in the process of completing" legal and technical procedures to repatriate the bodies of 39 Vietnamese migrants who died near London late last month, 

The Vietnamese Ministry of Public Security and UK police announced on November 7 that all 39 victims found dead in a container truck in Essex, the northeast of London, UK on October 23, are Vietnamese.