A large-scale meth lab has been busted in a joint operation between Vietnamese and Chinese law enforcement officers.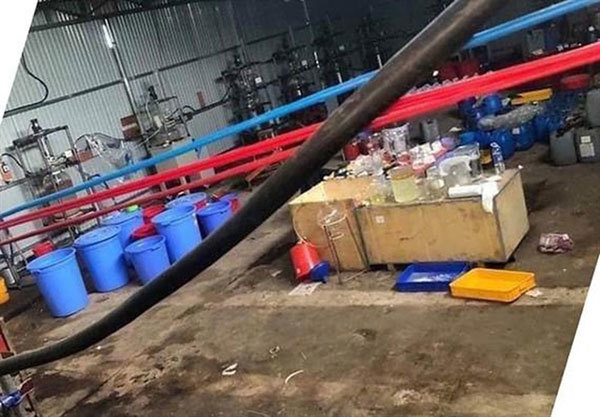 The drug production facility run by Chinese nationals in Kon Tum Province. — Photo sggp.org.vn
Although the incident happened on August 6, details have only just been released.
The raid was carried out at a workshop of Dong An Vien Export and Import Company in Dak Ha District, Kon Tum Province.
Seven Chinese nationals were caught producing methamphetamine by Viet Nam's Investigation Police Department and officers from Kon Tum, Binh Duong, Binh Dinh, Ninh Thuan and HCM City.
In total, 10 people were arrested with two from Vietnam and the rest from China. Police also seized equipment used to produce the drugs and documents.
Speaking at a press conference held in Hanoi on Tuesday after two-day ministerial meeting on enhancing cooperation effectiveness in combating transnational drug crime, Hau said the number of drug-related crimes has been increased remarkably in Vietnam and region.
"International criminal organisations are taking advantage of the country's geographical features to produce drugs for domestic consumption as well as export to other countries", he was quoted by Thanh Niên (Young People) as saying.
In the first nine months of 2019, Vietnamese enforcement authorities busted and investigated over 13,000 cases related to drug trafficking, production and possession, arresting 20,000 suspects and seizing tonnes of synthetic drugs and uncovering many cross-border drug rings that were led by foreigners.
VNS